Your twenties are a magical decade. You're old enough to feel independent, but young enough to still get away with doing what you want — like start your night at 1 AM or live in a yurt for a year. It's the perfect time to act first and think later. Mortgages and tax dependents tend to get in the way of skydiving and bull running, so get to work on these experiences before you're mature enough to reconsider.
Pick Up Another License
Getting certified in diving, teaching, or any other discipline takes time, which you have a whole lot more of when you're young. Some licenses are surprisingly easy to obtain than others (here's looking at you, boating license), while others require serious effort. Want to drive on a real race track? You'll need to get a Sports Car Club of America competition license, which involves a multi-day (not cheap) course from accredited instructors. Sure, it's a splurge and a commitment, but these are your dreams we're talking about. You'll be glad you put in the time when you're flying around the track in your golden years. Other options: go for a motorcycle license (there are plenty of courses), scuba certification, sailing certification, or even your pilot's license. Do it now — your future self will thank you.
Become a Public Spectacle
Making a fool of yourself is incredibly liberating. You'll have plenty of time to take yourself seriously later on in life. Now's the time to show your competitive (and uninhibited) side to the world by tossing your hat into a much ballyhooed contest. Whether that means shoveling hot dogs into your mouth on the Coney Island boardwalk or piloting a homemade flying machine off a pier, go for the gusto — and the record books. If testing your gastrointestinal fortitude isn't up your alley and your aeronautical skills aren't quite on the Wright-brother level, find something that plays to your strengths. Get out there and dominate.
G/O Media may get a commission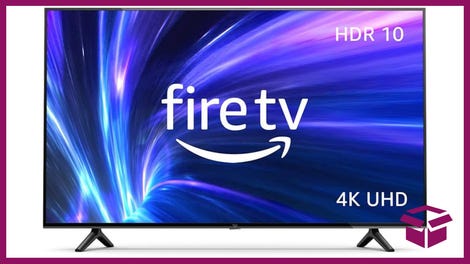 42% Off
Amazon Fire TV 50" 4K Smart TV
Shack Up in a Share House
Nothing beats waking up at the crack of noon in the general vicinity of an idyllic beach, stepping over the bodies of your passed-out friends (and strangers), and attempting to find a clean vessel to get some water into your parched mouth while thinking, "Wow. Who the hell is going to clean this place up?!" But, seriously, summer shares are a ton of fun and definitely not something you want to attempt once you realize the importance of sleep and personal space. It's now or never, so stop talking about it and start cramming a dozen or more friends into a seasonal rental.
Crash an Exclusive Party
Anyone can crash a wedding, avail themselves of the open bar, and feel like a bit of a badass. Dream bigger: crash a party befitting the gossip columns. It's not easy, but it's entirely possible.
Step 1: Find the bash. Check out the Datebook, for upcoming premieres and parties nationwide, or look for future event plugs in tabloid mags and newspapers. You want something big enough where there'll be some chaos at the door. Chaos is your friend.

Step 2: Dress up. Guys, this means a suit or tux. Ladies, go as glam as possible. Be chic enough that no one will think twice about whether you belong.

Step 3: Obtain props. Conceal a champagne flute somewhere. A pack of smokes, too. More on this in a second.

Step 4: Do recon. Arrive early and watch how and where the organizers set up. Determine the back or side entrances.

Step 5: Find the weak link. Identify the youngest, most frazzled person with a clipboard, wait for a surge at the door, and attack. POLITELY — being a jerk never works. Just insist you're on the list. With a throng of people looming behind you, he or she will often acquiesce. You can also wait until a celebrity walks up, slip into their entourage, and breeze on in. If the front doesn't pan out, go to the side or back door. Take out your empty champagne glass and cigarettes, and tell the guard you came out for a smoke, got turned around and aren't sure how to get back in. Don't forget to turn on the charm.
Treat Yo'self
Save up and buy your heart's desire. Like, say, your first motorcycle. You want to truly treat yourself, so find a bike you love while acknowledging your status as a novice. Honda's entry-sport models, specifically the 2015 CB300F and CBR300R, are drool-worthy rides that will ensure your journey to the other items on your bucket list is a fun one. These optimal starter bikes have fantastic styling (the type you'd see on a bigger 600 or 1000) as well as engine displacement and riding positions that are great for learning the basics. Both models are under $5,000, and are a cinch to service and maintain, so you can indulge your new hobby without breaking the bank. Just think about how much your cool quotient will soar when you pull up to your summer share perched on your sleek new bike. You can't put a price on that.
Go Clubbing (Not the EDM Kind)
Whatever you're into, there's a club, league or organization waiting to support your passion. All you have to do is sign up. Clubs, leagues, and teams are great ways to meet new people, network, and even stay in shape (although that part isn't mandatory). Short on skill? Low-pressure gatherings like kickball leagues and writing groups are still fun. There's no limit to what you can join. (If you're into Dungeons and Dragons and live near Brooklyn, drop me a line.) Bonus points if you push beyond your comfort zone and try something a bit more extreme, like a bizarre foods club.
Travel Solo
There's immense value in alone time, especially when it takes place outside your usual environment. Traveling alone means plenty of introspective time, which is crucial to figuring out who you are, what you like, and where you want to go. It will force you to put your phone away and actually engage with the people around you. Random strangers often surprise you with kernels of wisdom. Travel alone for a broader perspective on life: eventually, you'll crave human interaction and be forced to try new things and put yourself out there. As far as destination goes, it really doesn't matter. Drive across America, head to a foreign country where you don't speak the language, or just do some sightseeing in the next state over. Wherever you go, go it alone.
That should be enough to get your young, spontaneous self started. If you want one bajillion extra bonus points, try doing all seven things in one (prolonged) swoop. You could start by getting a motorcycle license, then get your butt on Honda's CB300F or CBR300R and take it on a solo cross country ride, stopping along the way to compete in various contests, eventually ending up in Hollywood where you crash a movie premiere and fall in love with a fellow attendee, and then you two lovebirds can go in a summer share house that becomes a bocce league in the fall. You're only young once, right?
Sean Evans is a writer living in New York who is as shocked as you are that it's still possible to make a living as a writer. He's big on all things automotive, whiskey and heinous reality television. He tweets here.

* Main image features the Honda CBR300R.
This post is a sponsored collaboration between Honda Powersports and Studio@Gawker.