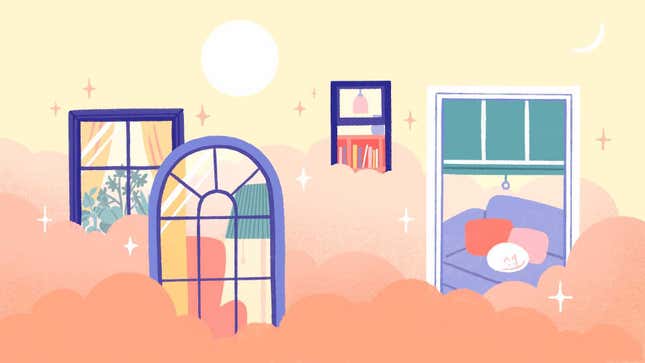 This is part three of our four-part series giving tips and advice to first-time homebuyers, in collaboration with American Family Insurance. Check out part one and part two to learn more.
Stepping over the threshold as a first-time homebuyer is exhilariting—but often, that post-escrow euphoria is followed by a stress-inducing comedown. Where do I start? How do I make this place look like me? Am I minimalist? Contemporary? Rustic? Traditional? What even is a window treatment, really?

To help navigate the home furnishing waters, we spoke to Baltimore-based interior designer Laura Hodges, whose eclectic and award-winning work embraces sustainability and a clean, elegant aesthetic. Read on for her insights and expert tips that will help you transform your new digs into your personal sanctuary.
Identify Your Vibe
When faced with empty rooms, homebuyers often focus on furniture, says Laura, but in her opinion, it's far more important to focus on ambience and emotion. She recommends spending plenty of time on an idea organizing platform or interior design site, pulling images that you respond to and identifying themes or patterns (are you into mid century modern? Do you love vintage pieces?) before signing the dotted line on any major pieces of furniture. "You don't have to think of it as, 'I want my room to look like this exact room.' It's more about how you want the space to feel," says Laura. "Then you can hone in and ask, Why do I love it? Because it's light and bright? It's dark and moody? It reminds me of my grandmother's house? It's full of vintage pieces and I don't want to feel like I'm in a brand new house?" The answers to those questions, she explains, will give you a design compass and make individual decisions feel much less daunting. "You start looking at the whole house as a whole, as a cohesive space, rather than just one room at a time."
Draw Up Your Blueprint
Now that you've zeroed in on the feel you want to achieve, it's time to focus on the specifics. First, get out the measuring tape! One of the most frequent mistakes Laura sees first-time homebuyers make is purchasing pieces that end up being too big for the space. Detailed measurements—of the floor space, wall space, corners, and nooks—she explains, will help you to put together a comprehensive furniture plan, which charts out each section of a room, and which pieces of furniture and decorative accents—sofas, tables, ottomans, and even TVs and artwork—will be placed there. "That narrows your shopping list down to what you actually need, and makes the whole experience more efficient," adds Laura. "You can say, 'A round coffee table just doesn't make any sense. We're just going to look at rectangular tables that are 36 by 48 inches.'"
Once you've got your template ready, Laura has a suggestion for an initial purchase. "I always say start with the rug. It's going to be the hardest thing to find, with the least options. But once you have a rug you like, you can pull colors from it." She also recommends leaving paint, often the first thing that homeowners focus on, as your last step if at all possible. "See if you can design the room first, because when it comes to paint, you can choose from every color under the sun," she explains. "There are no limitations on customizing the wall color, but you're limited with everything else in the room."
Go Beyond The Big Pieces
"It's often the small details that can really make the difference," says Laura. Seemingly secondary decorative accents like wall art and plants are a win-win for first-time homebuyers, since they'll have a big impact on your space, but a much less significant impact on your wallet. "Art doesn't have to be expensive at all, and you can definitely find something that fits your taste," explains Laura. "You can buy great local artwork online, or you can look at local art schools that might have markets or other ways that you can purchase student pieces."
Small accents can also be a game-changer if you need to repurpose old furniture. "If you're using a sofa you already have, you could get different throw pillows for it. Or you take a console table that you've had for years, put it in a different room, add new baskets underneath, accent it with a new mirror, a vase, flowers, and suddenly it will look completely different," says Laura. "It's not about the individual pieces as much as the overall feel of the room."
Need a little help capturing the feel you're after? Even if you're cost-conscious, professional design help isn't out of the question. "If it's in your budget to hire a designer, by all means, go for it," says Laura. "Social media is fantastic for finding them. But if it's not in your budget to hire a designer, there are lots of different workarounds." She recommends taking advantage of internal design teams at furniture stores, or contacting designers to ask if they offer one-off consultations without a project commitment. "A lot of people started doing video call consultations," she adds. "You have a two-hour call with a favorite designer, show them your space, and then they can give you any design advice that's possible via video call."
Think Long-term Where It Counts
Taking on a new house can be intimidating, but whenever possible, Laura advises, don't let impatience or sticker shock stop you from making wise decisions about the pieces you invest in. It's better to go slow, and think about the mileage you'll ultimately get out of a piece to get the biggest bang for your buck. "Buying a cheap sofa that is only going to last for two years, and then replacing it that quickly, is way more expensive than buying one good sofa." Having a long-term vision for your home also applies to planet-consciousness, Laura explains. "Vintage shopping is the easiest way to go sustainable," she says. "If a piece is made well to begin with, it will last for a zillion years. And that's pretty awesome."
Customize Your Coverage
In addition to customizing the look and feel of your first home, you can also customize your homeowners insurance to precisely fit your specific needs, thanks to American Family Insurance. American Family understands that homeowners insurance, like the perfect sofa, is not one-size-fits-all. But with the help of their new home insurance quote tool, you can easily pick and choose the coverage that's right for you and your new home. It'll be easier than picking a rug!
Rachel Mosely is a writer and editor based in Brooklyn. Her work has appeared in Cosmopolitan, Seventeen, Elle, and more.
This post is a sponsored collaboration between American Family Insurance and G/O Media Studios.