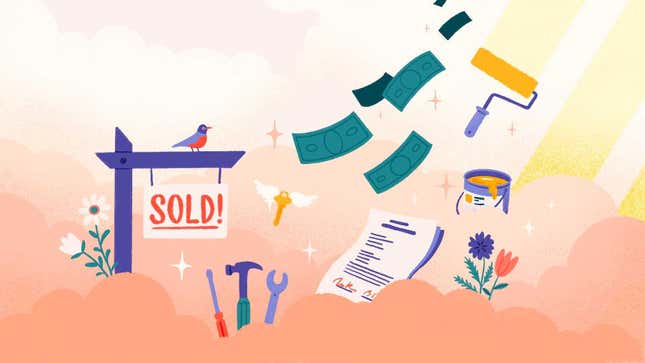 This is part two of our four-part series giving tips and advice to first-time homebuyers, in collaboration with American Family Insurance. Check out part one to learn more.
You hear it all the time: Buying a home is a good idea. But that doesn't make the process any less scary, especially for Millennial and Gen Z folks who, well, haven't exactly had the easiest time.

"Millennials and Gen Z have faced a challenging economy for getting a career started. Many of them aren't fully confident in their financial situation. Combine that with a housing market where property prices have grown astronomically, and it's unsurprising that many find the prospect of home ownership daunting," says Julie Aragon, CEO of the Julie Aragon Lending Team in Los Angeles.

The good news is every reason to be afraid can be met with reasons not to be. Here are some of the top Millennial/Gen Z home-buying fears, and advice from industry experts on how to beat them.
"I Don't Have Enough Money For A Down Payment."

While a 20 percent down payment does result in more favorable loan terms, there are loans that require as little as three percent down. The catch? You would have to pay private mortgage insurance (PMI), which typically costs between .5 percent and 1 percent of the loan amount per year. (So, a $400,000 home would mean $2,000-$4,000 in PMI each year, split into monthly payments.)
The good news? PMI goes away once you have paid enough of your mortgage to reach that original 20 percent. You can reach that goal faster by paying extra each month towards the principal.
"After a couple years of payments and a strong credit score, the borrower can look into refinancing their loan for a lower interest rate," says April Henley, content developer for Solid Offers, which helps homeowners sell their homes.
"I Have No Idea How To Get Started."
The process of finding and buying your first home can be lengthy, complicated, and intimidating. There's a whole new home-buying lingo you have to learn (Escrow? Earnest money? Appraisal? Huh?), a ton of paperwork to complete, and often it feels like one little mis-step can derail the whole process — especially if you live in a competitive market.
Sometimes, even figuring out if you're ready to get started can feel like too much.
 
The good news is there are plenty of free resources out there to guide you step-by-step through the whole process. For example, the first-time home buying guide from American Family Insurance lays out the whole process in helpful chapters, from how to start saving up for a new home to what to do after you've moved in and everything in between. And if you need more personalized support, your local American Family agent is a great place to start: as members of your local community, agents are often well-connected and may be able to help you find a realtor, home inspector and more.
"I'd Be Trapped. I Can't Pick Up And Move If I Need To."
While renting is more flexible than owning, you don't have to think "30-year commitment" when you hear "30-year mortgage." If you find a place you love but have to move, you have options. Option one: Sell.
"In general you need to own a home for around three years to break even on a purchase and a following sale. Real estate agents typically charge six percent of the sales price as a commission, so you want to make sure your home has grown in value by that much," says D. Shane Whitteker, owner of Principle Home Mortgage in State College, Penn.
Second option: Rent it out. If what you charge for rent is more than your mortgage, taxes and insurance payment, you might even make a profit.
"I Can't Call My Landlord To Fix Something If It Breaks."
It's true: As a homeowner, you're the one responsible when something breaks. And you have to pay to fix it.
"Plumbing fails, HVAC problems, roof problems — it's not a matter of if, but when," says Jeff Shipwash, a real estate consultant in Kingston, Tenn. "Go ahead and begin researching the estimated repair costs for the most common items. Once you have these figures, lay out a plan to begin saving in a separate savings account for these items."
A home inspection before you buy also gives you an idea of any current issues, or issues that might come up in the near future. But, be warned: The results can look like one red flag after another. Often, they're not. Your realtor can help you tell the difference.
"The scariest part about buying a house is the reality check you get during the home inspection," says Bill Samuel, a residential real estate investor in Chicago. "Spend a lot of time looking into the condition of the property during the inspection so that you are not walking into the inspection blindly. Take the advice of your experienced realtor to make sure your expectations are in the right place so you don't set yourself up for disappointment."
---
Sometimes the act of putting voice to all these fears is enough to help you make sense of them. And if these words of wisdom from industry professionals are nudging you toward the road of home ownership, check out the resources and info available via American Family Insurance, who can help answer even more of your biggest questions.
Marla Caceres is a freelance writer for G/O Media Studios.
This post is a sponsored collaboration between American Family Insurance and G/O Media Studios.