You've lusted after two-wheeled glory for too long. The time has come to take the plunge and buy your first bike. Unfortunately, the plethora of options in today's moto market can turn what should be a life peak into a daunting task. But fear not, novice rider. This list of considerations will guide you to the perfect entry-level bike.
Choose Fit over Style
Resist the urge to jump directly onto your fantasy bike. No offense, but you probably can't fully appreciate it (yet). Be patient, grasshopper. The most important thing is that you're comfortable, a factor that's pretty much based on your size and preferences. You want to feel capable and confident on the road, so try out a range of styles and models to see which one feels (not looks) best. While there's no singular perfect style for starting out, a standard bike will have you sitting upright with a better view of the road, and give you increased control. It's also typically lower to the ground, so you'll be able to have both feet on the ground at a stop. It doesn't matter how flashy your bike is if you pull up to a red light and end up with your bike on the pavement.
Comfort Benchmarks
There's only one way to know just how comfortable (or uncomfortable) a bike is: sit on it...for a while. "If you're not comfortable after a few minutes, you won't be comfortable on the road," says Ty van Hooydonk, communications director for Motorcycles.org, a group dedicated to getting new riders safely on their first bikes. He has a few tips to consider when testing: "You'll want your arms to have a slight bend to them, and be able to hold that position with ease for long periods of time." Also, most riders find that a flat seat is preferable over a crowned one, which can push its way into your undercarriage — that never feels good. You also want to pay attention to the shape of the seat: the narrowness of a seat that tapers towards the front makes it easier to put your feet down when you come to a stop (and avoid embarrassing yourself in the middle of an intersection).
G/O Media may get a commission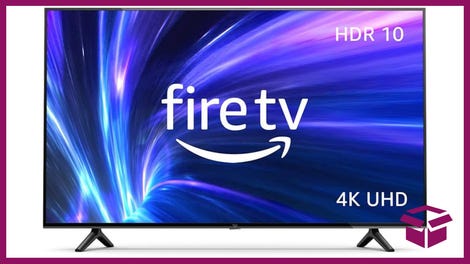 42% Off
Amazon Fire TV 50" 4K Smart TV
Lastly, if you do choose to go the standard route, you'll want to take some pressure off your butt by pressing down hard on the footpegs. So make sure you can comfortably put some pressure on those pegs. There are a few bikes that lead the comfort pack: try Honda's CB300F and CBR300R. Their narrow bodies, low seats, and raised handlebars check all the feel good boxes.
Resist Retro: New Is All the Rage
Sure it's hard to resist a gorgeous vintage bike oozing seventies charm, especially if it comes with a lower price tag. Ignore this temptation (and try to stop salivating). You want a trusty steed, and most older models just aren't as reliable as modern rides. Plus, it's hard to develop your riding skills if you're worrying about whether your bike's going to start.
New bikes have a lot going for them: they're easier to maintain, include a warranty, and have superior ergonomics. They also come with this thing called a fuel injector. Trust me, you want one. "If you let an older carbureted bike sit for any length of time, that carburetor is going to gum up," van Hooydonk says. "A fuel injector's going to help it run smoothly for far longer. And you don't have to worry about fuel valve position and the choke when you start up." Here's another fuel injector bonus: you'll save at the pump. Honda's 300F has a fuel injector that gets an estimated fuel efficiency rating of 71 miles per gallon*.
Keep Things Light
Learning to ride is a worthy endeavor, but that doesn't make it easy. Do yourself a favor and make things as simple as possible by choosing a lighter bike. Generally, the lighter the bike, the easier to manage — but you don't want to go too far. Aim for something under 400lbs. Your bike should be light enough to control but substantial enough to feel like a real motorcycle. In addition to increased dexterity, a bike with a lower curb weight will also make it easier to gain confidence at lower speeds, which is how you build a sturdy riding foundation.
Less Engine Is More
You may be tempted by the large engines roaring under a veteran rider, but hold on a sec. The best riders learned how to squeeze every ounce from a small engine before moving up a size. Single-cylinder engines under 500cc have improved control, but still generate that power you're looking for in a bike.
Another engine factor to consider is displacement. Motorcycles with a higher displacement are more responsive, but this can also detract from the smoothness of your ride. When you're starting out, you don't want to stress too much about being super precise with your throttle inputs — keep it simple for now. Don't think of a lower cc as reducing power; think about it as increasing your room for error. And when considering the gearing on the engine, there's no need to go torque crazy on your first bike. Opt for lower gearing for first to make taking off more fluid.
To ABS or Not to ABS?
Anti-lock braking systems may be standard on cars, but that doesn't apply to motorcycles. Manufacturers like Honda offer ABS as an add-on to bikes like the CBR300R. So is it worth it? That depends. If you're a newbie, it can't hurt. "The ability to squeeze the front brake lever and not have to worry about threshold braking and locking up is huge," says van Hooydonk. "It could save your life." That said, any experienced rider will tell you to also learn proper braking without the aid of any additional systems. And they'd be right. Consider things like your (future) riding style and the conditions you'll encounter when determining what's best for you.
Try Before You Buy
Give any potential new bike a test drive before you hand over any cash. According to van Hooydonk, your main goal is to determine how the bike feels. He recommends asking yourself questions like, "Is it doing what you want it to? How's the turning radius? Are you able to get it where you want? Is the clutch stiff and hard to pull? Is it too responsive?" You want a bike that reacts to your inputs and has simple modulation with plenty of feedback. Most importantly, you want to feel at ease while you're riding.
Now that you know what to look for, you're probably wondering whether you can find those attributes in a single affordable bike. Yes, you can. Actually, make that two bikes. Honda's CBR300R has the styling and attitude of a sport bike, with a low seating position that gives the rider optimal learning posture. The CB300F has the same great handling and stance as the 300R but with a clean, naked styling that some riders prefer. Both are fantastic starter motorcycles: they have the ideal combination of power, comfort, and nimbleness that will help you establish the foundation you need for a lifetime of riding. Okay, now you really have no excuse. Stop reading and go get your butt on a bike.
Sean Evans is a writer living in New York who is as shocked as you are that it's still possible to make a living as a writer. He's big on all things automotive, whiskey and heinous reality television. He tweets here.
Main image features Honda's CBR300R and CB300F .

---
*Honda's fuel economy estimates are based on EPA exhaust emission measurement test procedures and are intended for comparison purposes only. Your actual mileage will vary depending on how you ride, how you maintain your vehicle, weather, road conditions, tire pressure, installation of accessories, cargo, rider and passenger weight, and other factors.

This post is a sponsored collaboration between Honda Powersports and Studio@Gawker.