America and the Old World fell in love with the automobile at the same time. In America, motor racing was — and remains — a rugged sport, campaigned on oval speedways in full view of paying spectators, who could spot every car at all times and therefore get their money's worth. Sliding on dirt. Gunning it on the straightaways. Wooden boards shaking underneath white-walled Firestones, or plumes of dirt being sprayed into the sideboards, as rough-and-tumble madmen overtake each other at triple-digit speeds.

Given enough time, money, and moonshine, American motor racing eventually came to be defined by the good ol' boy: the tobacco-spittin', trash-talkin', working-class Last American Hero with the bluest of collars, who spoke his mind and didn't take no guff from nobody, just tryin' to have some fun in a late-model Plymouth.
In Europe, meanwhile, it was the gentleman racer — the insouciant playboy with fantastic hair and fabulous wealth, philosophical amorality and the romantic waxing of all that soul and passion that goes along with piloting, with great skill, a custom-bodied dreamboat of a race car that costs more than the GDP of a former colony. For decades, this is what we believed. But in truth — in racing — we're all alike, really.
Endurance Racing's European Heritage
In 1894, 42 Frenchmen launched from the Porte Maillot in Paris and tore across the countryside, seemingly in a bid to scare as many horses as possible on the way to Rouen, 78 miles away. It took the fastest pair six hours in a 3-horsepower Peugeot. Grand Touring was now in full effect. There were a thousand miles on the legendary Mille Miglia, for example, across the backside of Italy and along the coast and then up the mountains, all on public highways, a tortuous route that took an average of 16 hours of straight driving. No teammates. No backup cars. The fastest sports cars on the continent and their fastest drivers faced the Mille Miglia year after year, as they did the Targa Florio around Sicily, or the Tour de France, and the insane Marathon de la Route, a race that went from Liegé, Belgium, to Rome and back: four straight days of competition.
G/O Media may get a commission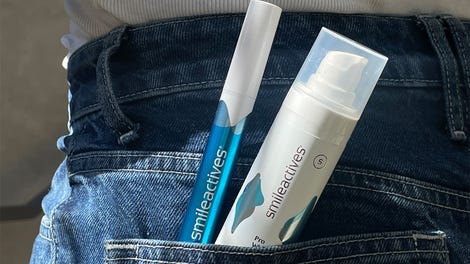 58% off
Whitening Powerhouse Pen & Gel Duo
Endurance racing, as exemplified by the recent 24 Hours of Le Mans, is a game that tests everything from pit-crew speed to vehicular reliability to how far a human body can be pushed at 200 mph down the Mulsanne Straight, in the case of Le Mans; how long a person can stay awake, how they can be pulled from their cars for driver changes, how well a rarefied prototype can hold up in the wee hours of the morning, and — if it does hold up — how soon that advanced prototype tech can trickle down into production cars, something any carmaker is always keen to discover.
Things can happen out there. Drivers make mistakes. They get worn down. They may have had all the practice time in the world, and they may have tackled a particular race in years past, but each stint behind the wheel is a challenge both physical and mental, of muscle memory and technique and the fight against fatigue — to say nothing of the proper execution of a perfect pass.
Even the most highly trained pit crew can slip up at four in the morning, and any mistake can escalate into something greater 10 or 20 laps down the road. Cars break down, parts wear out, tires lose their grip, track surfaces shape-shift. It is the lure of unpredictability that keeps people watching. Imagine the human drama! It is a game that upholds the racing tradition that dates back to the very first primitive, chugging automobiles. A game that rightfully deserves all the bragging rights: created in Europe, spread around the world, and proudly thriving in America.
Because it's not like the Europeans have a lock on this sort of thing. NASCAR drivers endure 300, 500 miles around Talladega. America's crown-jewel racing event, the Indianapolis 500, is the finest way to while away an entire Memorial Day afternoon, both on TV and back home in Indiana. Both the 12 Hours of Sebring and the 24 Hours of Daytona attract dominating Porsche race cars, legendary drivers from around the world, and Florida's finest species of party animals, with all the Cabo Wabo tequila to nourish them throughout the long and sticky nights. America's race fans have always loved endurance racing — it's just easy to forget how much we do.
Endurance Racing Lives On In America
The 24 Hours of Le Mans may be the spectacle, but the rest of the FIA's World Endurance Championship (WEC) is comprised of much more digestible six-hour races. So there! A quarter of the length but no less of a challenge. It is a far-flung Grand Tour around the world's great race tracks in Great Britain, Belgium, Germany, Mexico, Japan, China, and Bahrain — and with a stop in Austin, Texas, at the Circuit of the Americas (COTA).
COTA is well on its way to becoming an American institution, for reasons beyond Formula One and MotoGP. Every fall, the Lone Star Le Mans descends upon the Texas capital for a monstrous racing cavalcade: In one weekend, give or take, the circuit plays host to the Porsche GT3 Cup, the Continental Tire SportsCar Challenge, Super Trofeo, the IMSA WeatherTech SportsCar Championship, and the WEC. All of these series run their turns through the day and, just when it starts to get dark, the same incredible machines that conquered Le Mans — including the Porsche 919 Hybrid LMP1s that won in both 2015 and 2016 — will roar up the hill to Turn 1.

The Circuit of the Americas is the WEC's only stop in the U.S. And there couldn't be a better place for it: European road racing in the most American of lands, where the Lone Star beer flows like the Colorado River. So much for any American/European divide — this is the best of both worlds.

Blake Z. Rong is a writer, journalist, and photographer who's wasted much of his life so far writing about cars and motorcycles. He has contributed to Jalopnik, Road & Track, and Autoweek, among other fine publication. He lives in Austin, Texas.
This post is a sponsored collaboration between Porsche Motorsport and Studio@Gawker.