The role of the professional fighter has always captivated us. It's easy to misunderstand why anyone would choose a trade in which the main objective is to render another human being unconscious. Fighters are often thought to be brutal, bloodthirsty, and violent. While that may be true for some, others fight because it's their only choice: the therapy to mellow the nerves, the guardian against the temptations of the streets, or the sanctity in which one finds their peace. For some, fighting is the only safe place there is.

For Amy and Dex Montenegro, it's the bond that holds their family together. Both husband and wife compete professionally, and two of their three daughters are on the fast track to becoming the new faces of the sport's next generation. It's as if the family walked off the set of Kingdom (which returns to Audience Network with new episodes June 1, 9pm ET/PT), the drama series that offers an intimate look at all the insanity in the world of professional fighting, and how fighters hold that world together through love and loyalty.
Amy is the more famous of the couple. She's competed twice on nationally televised Invicta FC cards, and more recently appeared on the current season of The Ultimate Fighter. Dex, while less known nationally, is a local fan favorite in Washington, where the family lives. The two met while training at the same gym, though they had arrived at the sport for different reasons.
"When I was younger I got into a lot of trouble, did some time, came out, and my brother said we should start boxing," says Dex. "So I just started boxing to keep myself out of trouble, and then my cousin introduced me to MMA. I went to try a class and fell in love with it after that."
G/O Media may get a commission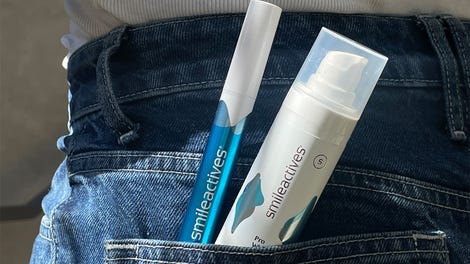 58% off
Whitening Powerhouse Pen & Gel Duo
Amy, on the other hand, used it to escape an abusive relationship.
"I was with my ex-boyfriend and he was pretty mean — like, abusive mean. He made me try a Muay Thai class and, after a few weeks, my coach thought I should fight. When I went home and told my boyfriend about it, he got so mad, he threw me up against the wall and yelled at me," Amy recounts. "I felt so defeated and sad, kind of stupid for even bringing it up. That's how he made me feel. He ended up going on a hunting trip, and while he was gone, I told my coach I was going to fight. I was going to do it. The fight came and I won, and then two days later I broke up with my boyfriend because I felt so empowered. After my first fight, I knew I wanted to fight until I can't do it anymore."
Dex and Amy bear some similarities to two of Kingdom's main characters, Ryan and Alicia. Ryan, the show's most promising fighter, is unsure about his future in fighting when he begins a romance with Alicia, a talented fighter who joins the same gym in order to revitalize her previously mismanaged career. Like Ryan, Dex, too, was bouncing back from a bout of depression when he met Amy, who herself was recovering from a five-fight amateur losing streak, and had joined the new gym in the hopes of turning her career around. In fight clubs, it's often taboo for fighters from the same camp to date one another, as relationships can become distractions to training — and, in the worst-case scenarios, they can fall apart, making the entire training atmosphere uncomfortable. Though this situation has mostly worked out for Dex and Amy, it's not been without its challenges.
On one hand, two fighters in a relationship makes perfect sense. Each person intimately understands why the other does what they do, and seldom does it feel that training is being chosen over the family. On the other, such a union takes everything a fighter risks and doubles it. There's no corporate day-job income to rely on, no family insurance plan to hop onto, and things can get complicated if both are training for fights at the same time. And then there are the physical risks.
Local filmmaker Ruben Rodriguez spent two years documenting the couple for his feature Fight Fam, and witnessed some of the rougher times the two had to endure.
"There was a moment where we were in Hawaii and we were going to the emergency room because Dex had gotten a concussion and he's like, 'Did you guys get my check? 'Cause I need it for rent on Monday.' It's like one of those crazy moments where you ask yourself if you've ever gone to the emergency room and your first thought is rent," says Rodriguez. "That level of dedication, that pressure, plus kids? That's crazy. And both of them do it. It's not like you can pass on responsibilities to the other person."
For work in between fights, Amy does double-shifts as a nurse twice a week at a nursing home, and the two teach strength conditioning and kickboxing courses at a local fight academy. They're also distributors for a couple of MLM companies that sell nutritional supplements for some extra side cash. As for the money earned from fighting, the family treats it like a salary bonus; they learned long ago not to depend on fighting as a primary source of income.
"There was a time when I was getting ready for the first Ultimate Fighter try-out and took a bunch of time off work to focus on my fighting. I didn't make it to the show, but we got a fight set up right away so I figured I might as well wait to go back to work until after the fight," Amy says. "So three days out, the whole event got canceled and it was like, 'God, what are we gonna do? How are we gonna pay rent?'"
Fighting is like being an independent contractor who's perpetually on call for a job that has no guarantee of actually happening. If a fight falls apart (as they commonly do), the fighter doesn't get paid, and there's no compensation for all the sacrifices made during camp. In some situations, the consequences are far more severe.
After a nearly two-year layoff, Dex scheduled a fight for the summer of 2015. In the final two weeks of a three-month camp, he sustained what he thought was a bruised rib while sparring. A 30-pound weight-cut intensified the injury, but it wasn't until he showed up at the hospital the night before the fight that he discovered his rib had punctured a lung, and air was trapped in his heart cavity. He spent two nights in the ER — missing the fight and the payday — and left with a costly medical bill. Three months later he managed to book another fight, but then ended up puncturing the other lung from returning too quickly, and the whole scenario repeated. For Amy, the whole ordeal was unsettling.
"When Dex was in the hospital, I forgot about the fight because it was scary. I mean I've seen really hard weight cuts before, and I'm a nurse, so I see people at all different stages of critical health conditions — but when it's your own husband it's something completely different. It's really scary and something I never want to see again," says Amy.
"It was rough because both of those fights, we were expecting that money. We needed that money for bills," Dex adds. "For me it was kind of a wake-up call, too, like, what's gonna happen when I can't fight anymore?"
For Dex, the answer to that question is to continue fighting until the end of the year, then transition into fight management and promotion to support his wife's career — and, should they decide to commit to the profession as well, his two daughters. Amy, on the other hand, is very much in the prime of her career and still has her eyes set on winning a championship with a major promotion. She's currently vying for a spot on the next Invicta FC card and has a lot of fan support to do so, though as it is with everything in this game, there are no guarantees for either of them.
After spending more than a decade researching fighters and their trade, I can't say that becoming a professional fighter is the safest career choice. The pay is low, the risks are high, and there's often a poor return on the sacrifices. But that's the cost for a shot at greatness, and the reason why the privilege of calling yourself a "fighter" is such an honor to be earned.
DirecTV and U-Verse customers can stream new episodes of Kingdom here starting June 1 at 9pm ET/PT.
Nick Wong is a writer, traveler, and photographer who has covered the world of fighting for over a decade. His work has appeared in Vice, Complex, and National Geographic. You can see his work here.
This post is a sponsored collaboration between Kingdom and Studio@Gawker.
Illustration by Jake Inferrera.
Photos by Nick Wong.