Traveling on the fly might seem daunting if you're the type that makes a 20-page pro/ con list for which swimsuit to pack, but plans spawned from spontaneity often make the best memories. Of course, it's easier to book and travel on the go if you have the right tools at your disposal. Apps like Booking Now, the new spur-of-the-moment stay app from Booking.com, encourage spontaneity by providing personalized, location-based recommendations, so you don't have to rely on a strict schedule. Intrigued? Here's how to plan your next trip in the time it takes to decide what to eat for lunch.
Location, Location, Location
Vacation days don't grow on trees, so choosing where to spend your week(s) of freedom is usually more stressful than it has to be. When you're booking last minute, though, there's less time for stressing and more time for those impulsive, "What the hell am I doing?" travel decisions. The Flight Tonight app will help you GTFO of town at a moment's notice. It aggregates last-minute flights and orders them by price, so your options are instantly narrowed down.
Obviously, impromptu travel means letting go of pickiness. You have to decide which of your preferences take precedence. If you have hardcore sightseeing in mind, you might want to eliminate destinations that are seasonably undesirable — do you really want to see the beauty of Denmark in January? The NOAA app can quickly give you the worldwide weather report you need to make an informed decision.
G/O Media may get a commission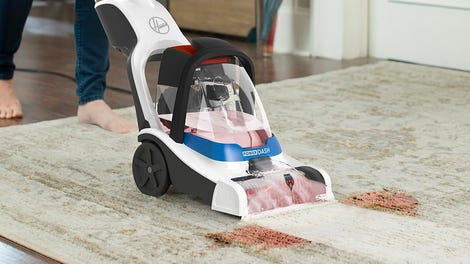 26% Off
Hoover PowerDash Pet Compact Carpet Cleaner
If this is a budget trip, though, price might play into your decision more than the elements. Flights to your dream location might be cheaper during the off-season. If you've always wanted to check out Iceland, pack a couple extra layers and head there on the cheap this winter. It might be cold, but you can't beat the view of the Northern Lights.
Don't rule out a road trip either — the wilder and more impulsive cousin of the traditional vacation. It requires little planning or supplies, and all you have to do is pack, gas up, and skip town.
Finding a Bed to Rest Your Head
You've arrived in one piece (hopefully!). Also, you have no place to stay! Don't sweat it — the easy-to-use Booking Now app uses GPS data to quickly show your options. It works well for a road trip as well, helping you find and book hotels based on your tastes and location as you hop across a state or country. Users fill out a profile that stores information like accommodation preferences and budget, and in a few seconds, the app returns with results that are relevant to your interests. It's simple.
Once you have a list of available hotels in front of you, narrow your options down. If you're not planning to spend much time indoors, you probably don't need to shell out extra cash for a four-star hotel. On the other hand, if you're looking to kick back and relax, it may be worth it to pay for a comfortable bed. But before committing to a hotel — or specifically, the neighborhood the hotel is located in — check out Street Advisor for feedback from residents, and Walk Score to figure out how simple it is to get around your city sans car.
Orchestrate the Day-to-Day
Roadtrippers offers tons of off-the-beaten-path itineraries and will help you plan out day trips before you set out. It's great for road trips especially, since it'll show you interesting sights, restaurants, and more along the way (it even estimates how much gas you'll use). You can also use Lonely Planet and Yelp to find both popular tourist destinations and locally-loved destinations. Yelp's Talk page even lets you chat directly with the community for ideas from experts. Atlas Obscura is a great resource for finding unconventional sights, too. Use Google Maps to plot your custom itinerary and avoid getting lost.
Have the Right Tools
While you're on the go, you'll want to make sure you have tools to get you through the day in one piece. The most important one is your phone, since it'll hold everything from tickets to tour guides. Make sure it has enough juice to last. Spring for an external battery case for your phone, and you'll never be worried about that dreaded 0%.
You'll also need the right bag to carry with you. Put together a go bag ahead of time, so you can strap it on and be on your merry way without worrying about forgetting the essentials. Prep one with everything from an umbrella, to toiletries, to your laptop. Pack items that save space or give your electronics some extra juice, like a key chain thumb drive, power splitters, and compact wallets.
Don't Be Afraid to Wing It
If your plans aren't going perfectly or you just want to switch up the pace mid-trip, don't be weary of impromptu changes. Flexibility is the key to spontaneity. Remember to keep an open mind. Concentrate on experiencing new things rather than places, and you won't be disappointed. If your travel plans don't go perfectly, remember to breathe. Meditation can help lower stress levels, so you can concentrate on seeing all the giant cheese sculptures in America. Sit down on the nearest park bench or post up in your hotel room since it'll be quieter. Then, just focus on breathing or recite a mantra. Zencast provides instructions for beginners and experts alike.
The Booking Now app makes it easy to follow your impulses without sleeping on a park bench. For the luxury of improvisation, download the app and get going.
This post is a sponsored collaboration between Booking.com and Studio@Gawker.