Living tiny is getting big. From 420-square-foot apartments to shelves that fold into your wall, minimalism is more than just a trend. It's a lifestyle, one best suited to those who don't keep boxes full of keepsakes from long-gone exes — or, you know, are ready to consume less in general.
At the forefront of this movement is LifeEdited — the minimal-living firm that consults architects and designers on how to make the most out of a tiny space. You may recall their New York City model apartment, which was recently put on the market for a shade under a million dollars. The Studio@Gawker team met Communications Director David Friedlander at that very apartment to introduce him to LyveHome on behalf of Lyve, the only cross-platform service that helps people collect, protect, and rediscover the millions of photos they take each year.
G/O Media may get a commission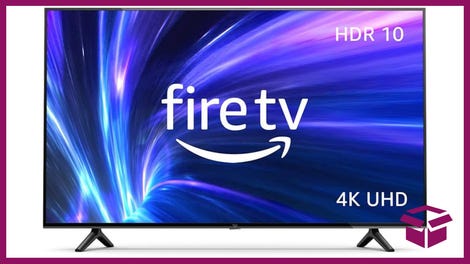 42% Off
Amazon Fire TV 50" 4K Smart TV
The Lyve service is a great tool for living a life edited; it streamlines all the images and videos that live on your phone, tablet, or computer and organizes them by date, reducing the need for outdated photo albums and other sentimental clutter. All that's required is a sleek, white LyveHome device (which holds two terabytes of data) and the Lyve app. It doesn't get much more minimal than that.
As for the LifeEdited team, doing more with less is a way of life. David himself has modeled his own apartment based on that principle: "When I started working here, I was living in five hundred square feet with my wife in Park Slope, and then we had a kid. We moved upstate to have more room, but after a year and a half, we wanted to move back to the city. We looked for a place, which was a hellacious experience — and when we did eventually find one, the only way we were going to be able to afford it was by downsizing."
But downsizing means more than just donating those books you'll never read to the library and eBaying the leftovers from your wedding registry. "It's doing more with less space, less stuff, less carbon emissions. Smaller is greener. [Founder of LifeEdited] Graham Hill started up the website Treehugger, which he sold in 2007, but he sometimes says this [apartment] is like a physical manifestation of Treehugger's ideals," David says.
The apartment is the product of a contest launched in late 2010. LifeEdited launched a crowdsourcing design competition, attracting 304 designers from around the world. Two Romanian architecture students won: Catalin Sandu and Adrian Iancu.
"The idea was to come up with the best [blueprint] for small-space design and from there, use it as the prototype or a lab. We wanted to take what we found here, and try to do it better, cheaper, and on a bigger scale. So now that's really what we're focused on — working with real estate developers and architects and even developing our own projects. And, you know, creating amazing small spaces that do far more than their small footprints would suggest," David says.
Of course, downsizing isn't just for your physical belongings these days. You can also clean up your devices to make sure you're not wasting valuable GBs. The space on your phone, tablet, and computer can get devoured by large photo and video files, so it's helpful to have them all in one place where you can view and prune them accordingly. LyveHome allows you to sync your photos across all of your devices, so you can decide whether you really need to keep thirty selfies that vary only by the slightest of angles. And with over the air updates to the software, you'll get more robust features for sorting and sharing your selfies for years to come.
However you choose to incorporate it into your life, minimalism is here to stay. Check out these tips from LifeEdited on editing your life without spending thousands of dollars renovating your apartment, and invest in a LyveHome — its modern design and impressive storage space perfectly mirror the LifeEdited ideal. Need proof? Learn more about how Lyve can solve your photo storage needs here.
This post is a sponsored collaboration between Lyve and Studio@Gawker.