Explorers in the old days wore odd hats and did things for their countries, like discover new lands and sea routes. But nowadays, innovative chefs and daring filmmakers are just as likely to explore and make new discoveries in their fields. National Geographic's Expedition Granted competition seeks to fund one budding explorer that embodies modern exploration — and it could be you.
Take a look at these explorers, who prove any profession can be an adventure when approached with creativity and determination, then head to the comments to share what non-traditional expeditions you'd embark on, if you had the resources.
Kevin Russ, iPhone Photographer
Like many people, Kevin Russ owns an iPhone and likes to take photos with it. Big whoop, right? But unlike most iPhoneographers, Kevin makes his living by driving to some of the most breathtaking natural sights in the US and then selling his iPhone photos of the views. It's a job he created almost by accident. For a long time he worked like a regular photographer, taking portraits of people and shooting for stock photo agencies. But his passion was traveling deep into nature and taking photos of the natural beauty surrounding him. One day his DSLR wasn't producing the shot he wanted, so he pulled out his iPhone — and then everything clicked. All the editing Kevin needed could be done on his phone, and he discovered people could connect with his iPhone pictures in a way that never happened with his DSLR. "I think people can connect to the photos a lot more because people have an iPhone or a smartphone with a camera," he says. "If they were shot with a professional camera then I don't think they would've caught the same attention." Now Kevin travels the country taking photos and meeting up with other like-minded travelers. Basically, he's living his dream.
G/O Media may get a commission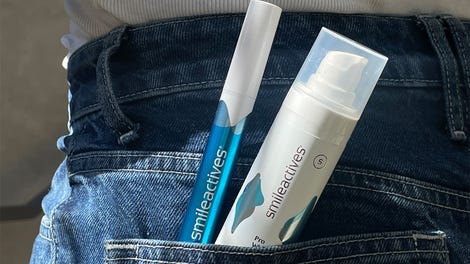 58% off
Whitening Powerhouse Pen & Gel Duo
Wylie Dufresne, Culinary Scientist
When it comes to the science of food, there might not be a more respected name than Wylie Dufresne. He serves as one of the groundbreaking advisors for National Geographic's Expedition Granted competition, which means he'll lend his experience to their search for the next great explorer. The James Beard Award-winning chef's main laboratory has been his restaurant WD-50, where he's pioneered the use of strange kitchen tools like food dehydrators and centrifuges to make dishes that resemble Caesar salads but are actually sushi. Some of his most creative offerings are dishes made with what is known as "meat glue," an enzyme that literally glues meats together and allows Wylie to create spaghetti made out of shrimp. Yeah, that's possible. And how good is the food, you might ask? Well, the proof is in the pudding (sorry) — WD-50 is Michelin-starred.
Casey Neistat, Guerrilla Filmmaker
Casey Neistat isn't like most directors. Sure, he's got all the usual credentials — an Independent Spirit Award from the Cannes Film Festival, his own TV series, the expertise to serve as one of National Geographic's Expedition Granted advisors. But most of Casey's work is on YouTube, he builds most of his own graphic effects by hand, and he's usually the star of his own short films. That's true of most of his personal videos that show him going on road trips and tackling bike laws, and it's also true of his ad campaigns with giant clients like Nike and Mercedes. How does he do it? It's all about searching for the conflict in any situation, he says, and following the lead character — himself. "If people care about me, then they'll probably care about what I have to say," he says. With almost 70 million views on YouTube, Casey's definitely on to something.
These modern explorers are proof that creativity and determination can lead to adventure and discovery in any field. Now it's your chance to get in on the adventure of a lifetime by entering National Geographic's Expedition Granted competition, sponsored by Dos Equis and Jeep, where you can win $50K toward your dream expedition. Submit a video discussing how you'd use $50K to make your passion project a reality for your chance to win.
Matt Marquez writes about geek culture and the arts. Follow him on Twitter at @mattmarquez.
This post is a sponsored collaboration between National Geographic and Studio@Gawker.