When Adam aka 'Ellohime' first stumbled into streaming, he didn't know it could be a source of money, let alone a full-time job. Now, over 387,000 followers later, he's in the upper echelon of streamers (the top 0.008%, to be exact). His entire career has been built out of long streams of a variety of games.

---
Meet the Marathon Streamers is presented by Energizer®. To maintain peak performance throughout a gaming session of any length, choose Energizer® Ultimate Lithium™ batteries. 
---
We sat down with the superstar streamer to talk about marathon streaming, the types of games he loves, and how the secret to a successful long stream comes from your lungs — not an energy drink.
G/O Media may get a commission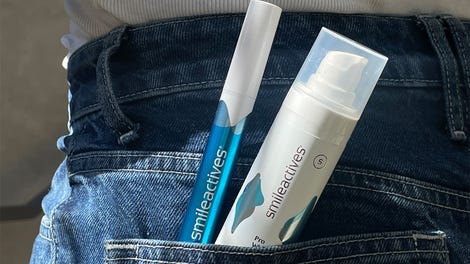 58% off
Whitening Powerhouse Pen & Gel Duo
Studio@Gizmodo: How did you first get into streaming?
Ellohime: What happened was kind of a perfect storm. We had this iconic gaming theme, Neverwinter, a Dungeons & Dragons MMO, we had zero people streaming it, and on top of that I had a really high-level character that I was streaming with before the game was even released. All that together meant that I had five hundred people show up to my stream in the first day. I thought that was normal. That first week, it went from five hundred to two thousand people every day. By the end of the week I was partnered. But at the time, I didn't know you could make money streaming. I didn't know anything. I just knew that I could broadcast to these people on this website.
For there you've had a wildly successful four years. What types of games do you like to stream?

The types of games I play are pretty vast: everything from simulation games to first-person shooter games, to strategy games, to card games. Anything's pretty much within reach, except that I don't play many realistic racing games. And while I love sports games, they don't typically come for PC.
What games do best for you?
Mystery games. A lot of people don't play a lot of mystery games on Twitch — I love streaming them. And horror games. I actually don't like playing horror games on my own. I don't think it's fun to just scare yourself, but I know my community loves it so much. We usually just have fun with it — like, '"watch Ellohime try to make it through Resident Evil VII!," and then I have a real hard time. I do the best I can, but I freak out a lot, and they love it. It's like being a mother: You do it for the love of your kids! [Laughs]
And what kind of gear do you use?
I love my Origin PC. I'm not really a big tech guy. All I know is that I love my Origin PC, and I love the people who work there because they're good, honest people.
You're also known for long, 24-hour marathon streaming. How'd you first get into that?

Organically. It happens to be what I like to do anyway: wanting to be the first person to level up to the top level in a game. This is something I'd been doing in MMOs for years even before I started streaming. A lot of people were asking me how I leveled up so quickly, and some were even calling me a cheater. So I just started to stream leveling from the lowest level to the highest in one continuous go. I'll just pick a class and I'll level the whole thing right in front of you.
You've already spoken at length about safe, responsible marathon streaming. What are your biggest tips for a healthy marathon?
You've got to go to the doctor. You have to go and at least get checked out to make sure that you're okay to stay up for twenty-four hours. You want to make sure you've got a clean bill of health so that when you push yourself physically, you're ready to do so.
---
Five Ways to Level Up Your Marathon Stream Ability

1. Make sure your doctor gives you the green light to stay up for 24 hours.

2. Practice deep breathing techniques every morning.

3. Don't forget to balance spending time with family and friends.

4. Remember that you can do whatever you want — you're your own boss.

5. Stock up on Energizer® Ultimate Lithium™ AA batteries. As the #1 longest-lasting AA battery, you won't have to worry about your gear dying mid-stream.
---
And we've heard you extol the virtues of breathing exercises.

I like to do deep breathing exercises while I prepare for a 24-hour stream. This is one of those things that sounds hokey, but it's worked for me. I remember watching stuff on Wim Hof, who's done all these extraordinary things because he's used deep breathing techniques to balance certain parts of his body. When I wake up in the morning and I'm just laying there, I'll do the breathing exercises. After about a week, I feel really good: confident, alert, and ready to go. It's all about getting oxygen into your blood, which helps you stay more alert. And it's about doing it naturally instead of reaching for sodas and energy drinks.
A lot of people will never hit your level of success. Can you tell us a bit about what it's like to stream to such a large audience?
When you do this job, you're your own boss. It has a lot to do with where you want to go and what you want to do. Right now, for me, I just want to take it day-by-day. This year I've been working on balancing spending time with my family, streaming, and doing it in a healthy way.

---
To watch Ellohime in action, check out his stream. And if you want your marathon stream — or any gaming session, for that matter — to keep playing without interruption, trust Energizer® Ultimate Lithium™ batteries for all your battery-powered peripherals. They'll last a long time and perform flawlessly in extreme conditions — just like you.
Giaco Furino is a writer living and working in Brooklyn. He contributes frequently to The Creators Project, Tribeca Shortlist's Outtake, Rhapsody magazine, and more.
This post is a sponsored collaboration between Energizer® and Studio@Gizmodo.