The state of Michigan is world-renowned for its greats: Great Lakes, great summers, and now — thanks to its sizzling cultural epicenter in Detroit — great food. If you haven't heard by now, there is a bit of a restaurant renaissance that is leading the Motor City's revitalization, one bite at a time. Riding the wave of this renaissance are an increasing number of black-owned restaurants that are turning age-old recipes into gastro gold.

Across Michigan's major cities of Detroit, Ann Arbor, Grand Rapids, Kalamazoo and Lansing, you'll find a collection of cuisines that run the African diaspora in terms of cultural flavor and fare. Not all of it is soul food, but it is food for the soul. And when you're coming back for seconds at any one of the following black-owned restaurants, you'll be glad we are finally getting a seat at the table.
Detroit
When it comes to great meals in the Mitten, the Motor City is Mecca. The opening and closing of restaurants can be breaking news, and the rumored shuffling of chefs at said restaurants makes for great conversation over cocktails. But if you're really going to do the black-owned restaurant experience right, start with the bread and butter staple of chicken and waffles.
Chicken and waffles tends to be a fundamental menu item in most black-owned kitchens around the city. But Kuzzo's Chicken & Waffles quickly stands out for its ability to fortify the fundamentals with extra helpings of flavor. Bites of the chicken or waffle are accented with a crispy "crunch," and a varied offering of soul food sides are savory additions. Founded in 2015 by former Detroit Lion Ron Bartell, Kuzzo's names "food, family and friends" as key ingredients in creating its welcoming atmosphere. So familiar are the restaurant's tastes that you'll feel right at home.

G/O Media may get a commission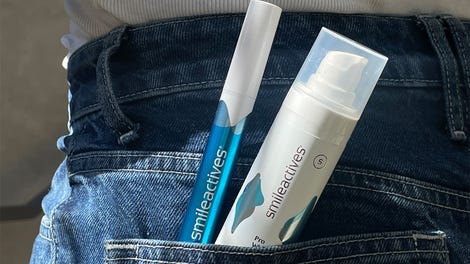 58% off
Whitening Powerhouse Pen & Gel Duo
If Kuzzo's is basecamp for black-owned cuisine, Central Kitchen + Bar is the summit. Located in the historic First National Building facing Cadillac Square, Central gives a contemporary, swanky spin on gastropub. Norwegian salmon, New York strip steak, braised short ribs — it's obvious that Central intends to reach beyond the black restaurant staples of macaroni and cheese, collard greens and fried chicken. But when they do make an appearance, they are done up to delicious results, like the menu's buttermilk fried chicken sandwich on a brioche bun with bacon, gruyere, pickles, ranch and tomato. Being one the city's movers and shakers, Central proprietor Dennis Archer Jr. attracts other movers and shakers in his wake. Grab a table to watch how they work the bar, or sit at the bar to work with them.
Grand Rapids
The counter service meal is a staple in black-owned restaurants. In Michigan's second largest city, two dining concepts do it best: The Candied Yam is good food fast, with a section for dining in if you just can't wait until you get home. All the Southern staples are there — fried catfish with grits, biscuits with gravy, and a meatloaf sandwich smothered in red sauce — with a few surprises, like the chicken and sweet potato Belgium waffles. "There's no need to go down South," for good Southern food, the restaurants proclaims. In true Michigan style, sometimes you have to go north to get South.
Next on the list of counter service concepts is Irie Kitchen, which is an island of its own when it comes to cultural flavor. In Jamaican English, the name "Irie" is used as a general term of approval, and there is no doubt that native Jamaicans would approve of the menu's offerings of curry goat, jerk chicken and fried plantains. Meals are served in a deep bowl that helps blend all the flavors together. In the beverage department, the sorrel or the ginger beer are tasty enough to wash all your troubles away. And when you leave on a full stomach, the only thing you'll be craving is island life.
Ann Arbor
If you want to sound like a local, call Ann Arbor by its street name, A2. If you want to eat like a local head to the Blue Nile. From start to finish, dining at the Nile is a black cultural experience worth drinking in. Aromatic Ethiopian coffee and teas can easily transport your thoughts, via taste buds, overseas. But spicy dishes such as the gomen (collard greens with onions, garlic, jalapeno peppers) and the yebeg alecha (lamb cooked in niter kibbe herbed butter with onions, garlic, and jalapeno peppers) may send you crashing down back to reality with their fiery heat. Drink lots of water and you'll be fine. Bring a group to share the whole experience and you'll be better. Per traditional Ethiopian dining style, there are no utensils at the Nile. You'll have to eat with your hands, but you'll taste with your heart.
Kalamazoo
Kalamazoo, or Kzoo, is really beginning to make strides in its offering of eateries, including new and exciting black-owned spots. These days you don't have to look too hard to find something sweet, like the small but mighty Cookies Five Star Grill. They do everything from burgers and loaded steak fries to chicken dinners and chicken and waffles. The number of Southern sides are equally impressive, including dirty rice, fried okra, red beans and rice, and, of course, macaroni and cheese.
Located on the north corner of Douglas Avenue and North Street, the restaurant is in a space that has housed many failed food concepts due to the city's changing neighborhood landscape. But Cookie's, "where fast food meets five star," shows promise. Here's hoping they will continue to prove that black-owned restaurants can weather a storm.

Flint
No city hustles harder than Detroit — except, of course, the hardscrabble town of Flint, Michigan. A full sixty-six miles from the Motor City, Flint shares a similar upbringing to Detroit as a city whose early prosperity was heavily tied to the automobile industry. But for every tough-as-nails trope thrown around to describe the city, there is warmth and community in the form of black-owned restaurants that smooth the edges.
For starters, start with RJ's Fried Thangs, a neighborhood hot spot known for its friendly staff and fried food. Okra, pickles, corn on the cob, chicken tenders, shrimp, fish, hush puppies, onion rings — it all comes mouthwateringly bronzed and packed with flavor. The same goes for dessert in the form of a fried Snickers bar. You can play it safe with chicken and waffles or close your eyes and pick a few items to put together on a personal plate to take home. Whatever you choose, you're bound to be back for more.
Next, head to Raspberries Rhythm Café & Bar in downtown Flint for a perfect pairing of food and local performance. In addition to a varied menu of soul food staples such as collard greens and macaroni and cheese, Raspberries keeps a varied rotation of local talent to perform on its stage. Check the night's schedule to catch a local jazz group, and you'll have a front row seat to why everyone falls in love with Flint.
Lansing
Even lawmakers have to eat! In Lansing, the most popular restaurants are within reach from the Michigan State Capitol. But you'll have to catch the best food before it passes you by. Yes, we're talking food trucks, specifically, NoLo's Soul. The truck keeps very limited hours, but we promise it's worth the wait. Open from 1 to 6 p.m. on Saturdays, NoLo's Soul divides its time between Grand Rapids and Lansing.
For starters, try the nolo roll — ground sausage, mixed greens, Cajun rice, and onions wrapped in a deep fried egg roll. Then kick things up a notch with the Louisiana roll — ground beef, mixed greens, red beans and rice, and onions. Next, try a soul bowl — seasoned black eyed peas, red beans, black olives with pico de gallo, sour cream, avocado over seasoned "soul rice," topped with tortilla chips. And finish with a Georgia roll for dessert — deep fried peach cobbler wrapped in a deep fried egg roll with powdered sugar. All rolls are reasonably priced at $3 and the truck does pre-ordered deliveries on Thursdays and Fridays.
If this list of great eats has you hungering for more, check out Pure Michigan's helpful tourism resources and plan your escape.
Emell Derra Adolphus is a Detroit-based writer.
This is a sponsored post between Pure Michigan and Studio@Gizmodo.