This post is a sponsored collaboration between Aflac and Studio@Gizmodo.
We're all on a quest to live better lives. Sometimes that means making big changes, like pursuing further education or taking a year off to globetrot. More often than not, though, small improvements to our daily lives can make a huge difference. Finding a more efficient route to work, for instance, or making more wholesome, home-cooked meals. Here's what you should do to upgrade various small parts of your life in order to live better on the whole.

Apply for a Travel Rewards Credit Card
By the time you hit your mid-20s, the days of crashing on random acquaintances' couches are starting to fizzle out. Still, traveling ain't cheap. Getting a credit card with travel rewards often saves a significant amount of money — whether in the form of statement credits for travel costs, free checked baggage or stays in hotels, rental car insurance, or other perks. Many of these cards come with initial spend bonuses, too, making travel costs even lower. Best of all, you can use the money you saved on on a vacation experience you wouldn't otherwise have considered — like a kayak tour or an afternoon in a sweat lodge.

Get a "Passport" Gym Membership
G/O Media may get a commission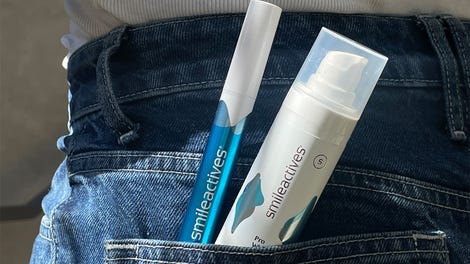 58% off
Whitening Powerhouse Pen & Gel Duo
If dragging yourself to your gym for the same old workout is like pulling teeth, it's time for a change. Break out of a dull gym routine by getting a "passport" fitness membership that lets you work out all over your city. Most chain gyms offer location-flexible membership plans for small monthly surcharges, and services like ClassPass let you take all sorts of fitness classes in your area, from indoor rock-climbing to underwater running. (The less adventurous needn't fret: There are a wide variety of conventional fitness classes, too.) You'll have the ability to exercise wherever your plans take you, try new workouts, and tone your body in places you barely knew existed. In other words: win, win, win.

Invest Your Retirement Funds More Consciously
There comes a time when most of us have to figure out exactly what sleep-inducing words like "IRA" and "401k" mean. If you haven't already, open a retirement account and put in a portion of whatever's leftover from your paycheck. (Protip: Maxing out the IRA contribution limit of $5,500 every year gets you a nice tax deduction.) If you're already accustomed to setting aside money for retirement, start thinking about how to invest your funds more mindfully. Research mutual funds — AKA diversified funds that are managed by professionals — and invest in ones with high ratings. Even if you're a total investing n00b, the likelihood of long-term gains with highly-rated funds are much more likely than losses.

Join a Local Food Co-Op or CSA
Everybody eats. Eat better by eating in season and supporting local agriculture. Food co-ops are like grocery stores, only collectively owned by its members, with the goal of providing food — usually organic and locally grown — for everyone involved. CSAs, on the other hand, eliminate the middlemen entirely and allow you to buy directly from farmers. Members usually receive a box of fresh produce every week, straight from the farmers' crops. Either option is an excellent choice; not will you support the local economy and leave a smaller carbon footprint, but you'll also get to try unique (and often heirloom) varieties of produce. Moreover, veggies and fruit will simply taste better on the whole, by virtue of being as fresh as possible.

Apply for an Insurance Policy That Helps Cover Unexpected Medical Expenses
In spite of all the steps you might take toward living well, it's not always enough to stop some of life's curveballs. Luckily, that doesn't mean you have to sacrifice doing the things that you love. Apply for an Aflac insurance policy to help you sustain your everyday lifestyle in the event that you're faced with an unanticipated illness or accident. Aflac's policies help cover expenses that regular health insurance may not cover when you're sick or injured — such as child-care, rent, utilities, and groceries. Keep living your best life (yes, even if your best life entails ordering delivery pizza while binge-watching true-crime TV) even when the unexpected happens.

---