Summer's here: that magical three-month period of nothing but fun 'n' sun, a time for grilled meats and cold beer and showing off your guns (or, at least, toasting your pale, untanned flesh). More importantly, it's the time of year of the choicest parties and hangouts — the kind that you'll wax poetic about in the dead of winter.

Real talk though: Who has the time or zeal to organize elaborate get-togethers? Intense party-planning is beyond extra. You're all busy, so here are some quick tips on how to be party-ready with just a moment's notice. Pop open a cold one and scroll through these pointers.
Start of Summer
Invite your buddies over to celebrate. Everyone's the most hyped for a party at the beginning of summer, when excitement and energy are running full blast.
G/O Media may get a commission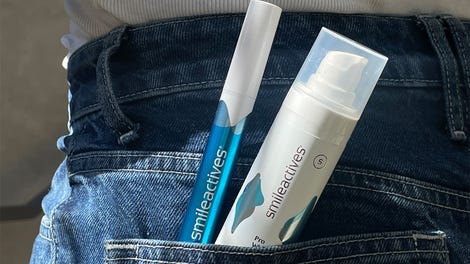 58% off
Whitening Powerhouse Pen & Gel Duo
Save yourself the hardest work by asking that everyone bring something fun: water guns, ping-pong balls, Cards Against Humanity, flabongos, quadcopter drones, anything they're into. Let creativity and spontaneity dictate.
Pick up ice cream and Solo cups from a nearby store and make ice cream floats an option. They're nostalgic, easy AF, and with the right combination of flavors, can win over basically anyone.
Throw together a playlist full of crowd-pleasing tunes — songs that everyone will immediately recognize and can bump to (read: '90s hip-hop) while waiting their turn at cornhole, or whatever activities are unfolding.
Start a bonfire when it gets dark. No one can resist a bonfire.
When Your Friends Show Up Unexpectedly
Spontaneous hangouts are bound to happen all summer, whether in the form of a "Hey I'm 5 mins away from your place; what's up" text from a buddy, or your entire crew showing up at your doorstep ready to hang.
Bust out the disinfecting wipes and a lint roller. Your place can look passable in 10 minutes with a quick wipe-down of surfaces and a few lint-roller swipes on the couch to pick up crumbs. Pile any strewn belongings in a bin, and cover up any stank with a few pumps of Febreze.
Start a collaborative Spotify playlist and have everyone add their favorite jams. It's 100% acceptable to recycle the playlist for future hangouts.
Have snacks on hand, namely chips and dip. A friend from Wisconsin — by nature of her motherland, an expert in all things related to summer parties and beer — once altered my life forever by introducing me to beer dip, a magical commingling of cream cheese, shredded cheddar, ranch seasoning, and Miller Lite. All things you can pick up at the corner store (if they're not in your fridge or pantry already), with a 2-minute prep that solely involves mashing some things together.
Keep frozen burgers in the freezer. If your buddies are still lounging at your place by dinner, you can just slap those babies on the grill.
4th of July
There's no need to change a marriage that's already perfect: grilling and fireworks. Stay true to the spirit of America and embrace tradition, but with as little prep work as possible.
Again, use your crew to your advantage. Potluck-style makes life easier and ensures that there will be enough grub to go around. If you've got a grill, encourage your guests to bring whatever they want to throw on it. Almost every type of food imaginable tastes better with a little char.
Keep a bag of skewers at the ready. They're handy for everything from veggie kebabs, to toasting marshmallows, to stabbing corn cobs for ease of eating. (Like char, everything tastes better on a stick.)
Speaking of corn on the cob: You can make a crap-load of it with virtually zero effort by dumping a pile of husked ears in a cooler, pouring boiling water over them, and closing the lid. They'll be cooked to perfection within minutes.
Ice-cold drinks are mandatory. If you don't own an ice bucket, make one out of basically any roomy, concave appliance: wheelbarrows, wagons, wooden crates, or whatever is relatively leak-proof.
If setting off your own fireworks is illegal in your city, scope out a rooftop or vantage point to peep the nearest state-sanctioned display — or just to chill with a view.
Labor Day
Labor Day is the symbolic end to the season. It's convention to barbecue, which is never a bad idea — but here are some other ways to complement your latest onset of summer meat sweats.
Take out the lawn games one last time. Hopefully you've been enjoying cornhole, frisbee, lawn darts, and bocce all summer, but now's the chance to savor it all before the season changes.
At night, do an outdoor movie screening. White butcher paper works as a screen, as does a doubled-up white bed sheet. Attach your makeshift screen to the side of your house or building, hook up a projector and portable speakers, and you're set. (Just remember your neighbors and maybe avoid blasting Commando at 3 a.m.)
Bonfire again. It's the quintessential summer-evening experience, and the dying of the fire is an apt metaphor for the passing of the best time of the year.
---
All these tips can be mixed, matched, and adapted to your needs. Keep 'em in mind and get ready to entertain like a pro all summer long. And don't forget the backbone of every great summer party: beer. Make sure you've got Miller Lite on hand for every hangout that summer brings your way.

Angela Wang is a Senior Writer for Studio@Gawker.
Illustrations by Sean Monaghan.
This post is a sponsored collaboration between Miller Lite and Studio@Gawker.