R-951's apartments are large and airy, filled with crisp, bright light from giant windows. The white walls and stainless-steel appliances make the apartment feel minimalist yet cozy. Each unit is 1,500 square feet and comes with its own outdoor space, rare in much of Brooklyn.

R-951 is unique in another way. The building boasts net-zero status, which means each apartment only uses as much energy as it produces. One way it does so is through Passive House design principles, which are used to attain a high level of energy-efficiency. The methodology reduces R-951's energy usage by about 75%. In fact, it's the first building in New York that is both Passive House–certified and net-zero capable.
Paul Castrucci, the principal architect of the firm behind R-951, says that this energy reduction comes from three key areas: super-insulating, reducing air leaks, and recycling and recovering energy where possible. For example, the entire perimeter of the building is super-insulated, which minimizes energy loss. The doors and windows are triple-glazed and the walls and roof, as well as underneath the concrete slab, each have six inches of insulation. Buildings often lose energy through air leaks. To avoid that, the firm air-sealed the entire building and taped around doors and windows to prevent air loss.

G/O Media may get a commission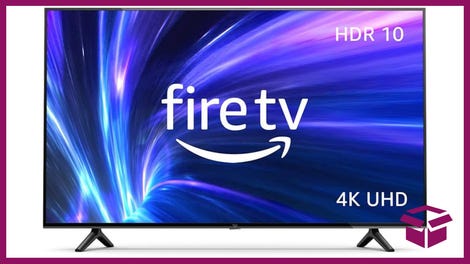 42% Off
Amazon Fire TV 50" 4K Smart TV
R-951 also utilizes an energy-recovery ventilation system to recycle energy and further reduce heat loss. Since R-951 has no air leaks, there has to be a way to bring fresh air into the building — but in the winter, that air may be quite cold. A typical building "exhausts all the air from the kitchens and bathrooms," Castrucci says, which means that a lot of valuable warm air is leaving the building. The energy-recovery ventilation system acts as a heat exchanger, and thus reduces energy loads by using this warm air in a controlled way, by way of tubes that never cross-contaminate. "There's incoming air in a series of tubes that's right next to the hot air that's going out, he says. "This [system] recovers the heat going out and transfers it to the air coming in."
In addition to addressing practical energy concerns, the apartments were designed in a thoughtful way so they are liveable and comfortable. "I think the lightness and the light colors reflect the fresh air," Castrucci says. This balance between aesthetics and practicalities is further reflected in the apartments' interiors. Take the wood flooring: It's warm, rich, and modern; and it's also sourced in a sustainable manner. Though finding this wood required a few extra phone calls and a small upcharge (less than 5%), Castrucci notes that finding responsibly grown woods is getting "easier and easier."

The roof has a rainwater collection system, which irrigates all the plants in the building, as well as 52 solar panels, which produce renewable energy. If there's a power outage, residents can plug directly into these panels to heat their apartment or run their fridge.

Solar panels are a surprisingly effective way for homeowners who want to save energy but can't spend the time or money to build a totally new house. "Solar panels make a big difference," Castrucci says. "You have a better investment investing in [them] then you do in the stock market."
Another accessible way all homeowners can learn from R-951 is through its appliances. Castrucci says homeowners looking to increase their home's efficiency can look to simple things like everyday lighting. "Everyone should be using LED bulbs," he says. EnergyStar appliances are another easy way to increase efficiency. If you are able to replace your windows, you should use "the best window that you can afford with the highest R-value" (a measure of thermal resistance and level of insulation).
R-951's apartments all come with induction stoves. With a gas stove, only 20 to 30% of the heat is transferred to a pot. Indoor gas stoves also contribute a high amount of indoor air pollutants. "When you have a building that's so airtight, all those indoor air pollutants [build up] and it's not good," he says. The electric induction stove from GE solves the problem, and 90% of the energy goes right into the pot. "You're saving energy, and it's a more efficient, cleaner way of cooking."

While building a Passive House may not be achievable for everyone, smaller improvements like adding solar panels and upgrading your appliances can go a long way. Screw in a long-lasting and energy-saving GE LED light bulb, for example, and you'll be well on your way to savings.
Nandita Raghuram is a Senior Writer at Studio@Gizmodo. She tweets here.
This post is a sponsored collaboration between GE Lighting and Studio@Gizmodo.
Photographs by Timothy Bell.