Get Ready To...) : title

Get Ready To...
Running a small business is hard work, but we're here to help. Welcome to Work Smarter, your one-stop-shop for tips and tricks to help small business owners save time and energy.
Running a small business can be a daunting experience. From establishing a healthy work/life balance to balancing a checkbook, there's just so much to get a handle on. But more and more small business owners are leaning into cutting-edge technology to not only help their small (but growing!) endeavors, but to completely transform the way they do business.

Isabella Patrick is the owner of Isabella Patrick Interior Design, an NYC-based firm that specializes in residential home design. As the sole employee of her small business, Isabella relies on designer-centric database software to help her keep track of projects, schedules, billable hours, and more. She explains that using tech in this way has completely changed her business, because it doesn't just help her stay organized, "it helps me look organized and appear more legit to my clients and people who are considering me." When running a small business, every impression you make on current and potential clients is crucial, so projecting an air of calm and organization is incredibly important.
Isabella also uses digital tools to completely upend the traditional interior design paradigm, by "branching a bit into remote design services." Residential design may seem like a you-have-to-be-there industry, but Isabella says remote design is "a good fit for me, and a good fit for a lot of people. They don't have to be located in my town for me to work with them, I can work with anybody, anywhere, and it's very flexible with time and makes the budget more accessible."
For Lauren Bilanko, co-owner of the Brooklyn board game shop Twenty Sided Store, tech has revolutionized her workflow. "When we first opened," Lauren explains, "it was all paper. We would write things down and store them in binders, and soon we had shelves and shelves of paperwork and binders that nobody looked at. It wasn't searchable, it wasn't accessible. By having digital systems for everything, it's saved space. It's helped with efficiency, with customer service. It allows our staff to look up anything, anytime. We use technology every day for everything from checking in orders to our marketing and promotions. I don't think our business would be able to operate without technology."
Until recently, most of Twenty Sided Store's marketing has been word of mouth. "We've been in business for eight years," Lauren says, "but we're really trying to put a big push into getting better with our marketing." To get her marketing chops up to snuff, Lauren relies on Mailchimp's all-in-one marketing platform and suite of capabilities.
G/O Media may get a commission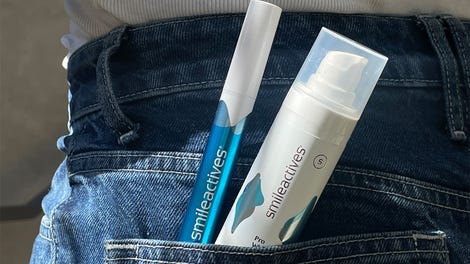 58% off
Whitening Powerhouse Pen & Gel Duo
From utilizing Mailchimp's ready-to-go CRM to segment your audience and identify purchasing patterns, to actually sending physical postcards to your audience (and people who don't yet know they're your biggest fans), Mailchimp blends cutting edge technology with impactful, out-of-the-box marketing to make a lasting impression on your customer base.
Budapest-based enamel pin designer and artist Ramóna Udvardi juggles her small business, POPpins, with her full-time job (illustrating for us here at Studio@Gizmodo), so she relies on tech to stay as efficient as possible. "Selling my own stuff in my free time means that I can't afford having a physical store, and besides designing and coordinating production, I also have to deal with advertising, invoicing, customer service, and social media. Relying on tech is the only chance to manage all those tasks, so I use different services to help me focus on the creative parts."
Ramóna also heavily relies on Mailchimp to connect with her customers. From creating personalized shopping experiences for each customer, to customizing the exact right time to reach out to your audience, Mailchimp helps small businesses turn what could be impersonal interactions with their customer base into a familiar, custom fit.
Ramóna even breaks her customers down into segments, and enlists their help in making design decisions. "When I can't decide about tiny details in my design, I can ask my customers who pre-ordered that pin which version they prefer. This way I can have direct connection with them, which makes the whole experience more personal."
As you grow your own business, the above suggestions all point to the value of seeking out new kinds of technology to help out with processes you may not even know you need help with. For easy to use, all-in-one marketing solutions, like a full suite of audience-centered tools and data, give Mailchimp a try and see how they can help you expand your reach and connect with your customers like never before.
Giaco Furino is Senior Writer for Studio@Gizmodo.
This post is a sponsored collaboration between Mailchimp and Studio@Gizmodo.