We live in an age where one can buy bacon toothpaste, bacon-scented underwear, and bacon soda. Bacon has reached meme status and, along with it, acquired a reputation for being a bit common. But it'd be a damn shame if bacon were relegated to just dude food and internet jokes. The stuff has a long and storied history, a scientifically proven capacity for attracting humans, and an incomparable flavor profile that lends itself to a variety of applications.

So, do bacon the justice it deserves. Here's how to elevate and incorporate bacon into dishes (and drinks!) that'll please the palates of even your bougiest friends.
Duh: Hors d'Oeuvres
Fancy people are all about tricking themselves into eating tiny portion sizes through philosophies like the law of diminishing returns and minimal aesthetics. Luckily, this works out for you because you can get away with serving less food and thus spending less money. Plus, finger foods are fun. There are two main bacon deployments in this realm:
Wrapped
Vegetables and lean proteins fare well wrapped in bacon, since its fat adds so much flavor and richness — hence the popularity of bacon-wrapped scallops and asparagus. Other things that taste great wrapped in bacon include cubed squash, shrimp, dates (aka "devils on horseback"; and bonus points if you stuff them with goat cheese), mochi sticks, and slices of fresh fruits like peaches, pears, and pineapple.
G/O Media may get a commission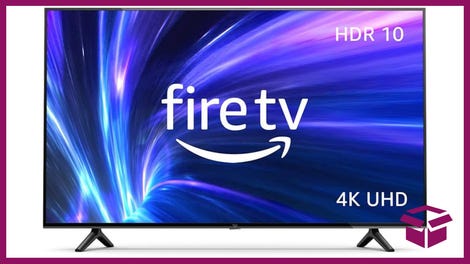 42% Off
Amazon Fire TV 50" 4K Smart TV
Stuffed
I advocate inventing bacon stuffings for any concave food. You can also stick with what's been proven successful, like mushrooms, tomatoes, clams, and deviled eggs. Going with a more liberal definition of "stuffed" to mean "chopped up and mixed with other things," bacon jam makes for a decadent crostini topping, or a unique addition to a cheese and charcuterie board.
Pasta Carbonara
Carbonara is one of those dishes that looks and sounds fancy but is deceptively easy to make. There are only four ingredients — bacon, eggs, parmesan, and pasta (classically spaghetti) — and the internet is chock full of recipes. The dish can also be customized to suit your own tastes, with popular variations including fresh vegetables and chicken. Memorize a favorite preparation, or just whatever's easiest. Protip: Always garnish with freshly chopped parsley.
As a Soup Base
Adding bacon to virtually any soup base is my personal favorite potluck trick, and the results always yield compliments and recipe requests. Most soups begin with sauteeing onions, other vegetables, and/or meat in oil before adding stock — which is where the bacon comes in. Adding two or three strips of bacon to the pot brings in a subtle porkiness that pairs well with a wide range of soup flavors. To give you an idea of the soups that work well with bacon, I've employed the method with pumpkin, curried cauliflower, borscht, and ramen broths, among others. If you're more of a recipe-follower, here are recipes for a bacon, kale, and white bean soup, and a bacon butternut squash soup.
Rendered Fat As an Oil Substitute
Don't throw away your the fat after cooking bacon! You can re-purpose it immediately, or strain it and store it in the fridge for up to a month. Using bacon fat as a partial oil substitute adds a distinctive richness and smokiness to all manner of recipes. Greens like kale, collards, and swiss chard can be sauteed in fat (a method you can also use to trick children into eating their vegetables), while salad greens can be upgraded with a warm bacon dressing — simply heat the bacon fat and whisk in Dijon mustard and a vinegar of your choice. If pastry is your forte, bacon fat makes an excellent addition to biscuits, chocolate-chip cookies, or even pie crusts.
Bacon-Infused Cocktails
Ever-more-elaborate Bloody Mary bacon garnishes have gained notoriety of late, but bacon can be incorporated into cocktails in a more sophisticated way, through infusions. Bourbon and vodka are both exquisite vehicles for the smoky, savory flavor of bacon. Here's how to do a basic infusion at home:

1. Cook a few slices of bacon.

2. Combine the entire contents of the pan (grease included) with a bottle of your preferred liquor. Mix well.

3. Let sit at room temperature for at least four hours, and up to a few days.

4. Freeze for 30 minutes.

5. Remove solidified fat and strain.

Once your infusions are complete, there are a host of bacon-enhanced drink options available to you: Old Fashioneds, Manhattans, and, yes, even martinis. If you're feeling extra ambitious, garnish with a candied strip of bacon in lieu of a twist.
Final step to all of the above: Gorge to your heart's content, all while accepting (bacon-perfumed) exclamations of praise from All Your Fancy Friends. Got any posh bacon recipes to add? Tell us in the comments!
Angela Wang is a Senior Writer for Studio@Gizmodo.
This post is a sponsored collaboration between HORMEL® BLACK LABEL® Bacon and Studio@Gizmodo.