A romantic holiday usually conjures up images of a couple relaxing on a bear skin rug, comically-sized wine glass in hand, perfectly in-tune with each other's physical and emotional needs. Unfortunately, that's not the reality.

You're investing a lot of money and precious vacation days on a trip, and it's natural to want to pack in as much sightseeing and activities as possible. But a hefty to-do list does not often leave room for sex and intimacy, let alone solid hours of conversation. That should change. Vacations might be one of the few times in your life where you have the unencumbered hours needed to bond with your partner. Here's how to make space for this on vacation between sightseeing, eating, and drinking.

Schedule Sex
It may sound like a boner killer, but planning sex ahead of time holds you accountable for getting intimate, so you know that you won't end up drinking too much wine, eating gigantic bowls of pasta, and passing out in front on front of a Friends rerun in your sweatpants. There's not anything wrong with that, but it leaves little room for physical intimacy. So before you leave on vacation, set a realistic goal with your partner for how much you want to do the deed. Be honest with yourself. You probably won't start having sex seven days a week if you two are used to a comfortable once-a-week sesh. But three times on a seven day vacation is a good number.

G/O Media may get a commission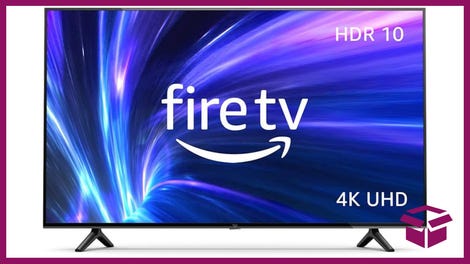 42% Off
Amazon Fire TV 50" 4K Smart TV
Pack some fun accessories or outfits, too. Vacations are a good time to explore within your relationship. Plus, you might feel less inhibited once you've escaped the confines of your home routine. That holds true for bedroom essentials, too. When you do have sex, switch up your routine by using better condoms or different lubricant. SKYN condoms, for example, are an easy and fun way to stay protected since they're barely noticeable and super comfortable.
Leave Room For Flexibility In Your Itinerary
When you go on vacation, it's natural to want to plan as much of your itinerary as possible. God forbid you get lost and end up in some cat-hospital-themed bar with one of your kid's front tooth missing. But when you're shuttling from one Can't-Miss-Tourist-Activity to another, every single day, you may forget to take an hour to actually do something adventurous. Over-planning in this way may discourage intimacy.
To combat that, try scheduling in an hour or two for unguided, unplanned exploring. Use this time to try a bar that wasn't in the guidebook or the teeny museum you just happened upon while strolling. You'll uncover something new in the city, and you'll also promote intimacy. Discovering new things as a couple will add some excitement to your relationship, and studies show that trying new things together can make you happier.

Have A Face-To-Face Conversation
If you're not used to having alone time, your inclination when you're on vacation is likely to hole up in your phone or keep your nose in the guidebook. I'm guilty of that, too. I once spent a weeklong beach vacation reading a gripping but graphic novel about the Nigerian civil war. I was so affected, I sobbed into my coconut cocktail, the bright blue Caribbean Sea lapping at my feet.

Ignore this impulse, and talk with your partner. Face-to-face interactions will bring you guys closer as a couple. Plus, studies show that phone use can negatively impact relationships. Spend an hour or two with your phones off and hidden, your books in your bags, and the guidebook put away for the day. Use this as uninterrupted time to talk. Just avoid anything chore-related, kids, bills, or work. This will force you to talk about topics that really interest you.

Spend One Day Childless
While you're probably using your vacation time as a way to get closer to your whole family, having children around every single hour around will also stress you out. And if it doesn't, you'll inevitably end up speaking in baby voice for hours, which does not promote intimacy (unless that's what you're into, in which case, by all means!). That's doubly true if you're all sharing a room.

Sending your kids to a babysitter for a few hours doesn't mean you don't love the gross little terrors. You'll just get some much-needed space. Use this time to do adult things, like talking (see above), drinking, and eating things that aren't shaped like dinosaurs. Some resorts and cruises include child care, or you can find a babysitter on a site like care.com. Your kids will probably have as much fun breaking up their routine as you do.

Childless hours also mean uninterrupted time for sex. Remember to prepare for that by packing SKYN condoms. And to make all of the above a reality, you can enter SKYN's Movember contest to win a 3-night stay at a luxurious hotel in Aspen, Sedona, or Jackson Hole. Airfare and $400 of resort credit or breakfast is included.
Nandita Raghuram is the Content Director at Studio@Gizmodo. She tweets here.

This post is a sponsored collaboration between SKYN Condoms and Studio@Gizmodo.