Feeling a little sleepy in your relationship? There are plenty of ways to splash a bit of cold water and wake up (or wake your groggy partner). Nothing shakes the cobwebs and adds a bit of excitement to a relationship quite like getting out of town for a bit, but it's not always feasible (or reasonable) to get away. Whether you two have screaming children, needy friends, demanding careers, or that frantic combo of all three, sometimes it's just hard as hell to travel.
So, homebound romance hopefuls, we put together some of our favorite ways to get closer (and/or freaky) without leaving your hometown.
Sex in the Great Outdoors
For some, there's nothing quite like the thrill of making love out in the wide open world. But let's face it, sex on the beach is annoying at best and downright uncomfortable at worst. (Side note: Who invented this bullshit concept? Sand + Sex = Nightmare.) It's time to ditch the tired old ideas of what outdoor sex should be, and start thinking creatively.

G/O Media may get a commission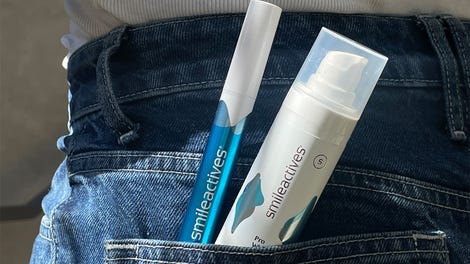 58% off
Whitening Powerhouse Pen & Gel Duo
First thing's first: Is outdoor sex in public legal? Well… no. So this should be relegated to your private backyard if you don't want to risk getting booked with indecent exposure and public lewdness. But backyard sex (where others can't see you) can be just as exhilarating as a tumble on a nature trail — even a tryst among the tomato plants or behind the shed will do wonders for your daily routine. Just be sure to stay out of the briars… unless that's your thing!
In these situations it's best to make sure you're prepared, so should the mood strike you while you and your partner are out in the hedges make sure you've got SKYN condoms and lube on hand, for the best and most comfortable sex.
Cook a Meal Together
Cooking a meal with your partner is one of the best ways to snuggle up and get comfortable while trying something new. To really get the most out of this, you should approach every step of the process collaboratively. Agree on a recipe neither of you have attempted before, go grocery shopping together, divvy up the roles in the kitchen, and get cooking!
Just remember not to take yourselves too seriously. The meal may turn out perfect, or it may (more likely) be a disaster, but you and your partner are in it together. And if all the closeness, playfulness, and collaboration from cooking results in your only taking a bite before running into the bedroom, all the better! Also, for the love of all that is sexy, leave the dishes for the morning (but be sure to do those together, too).
Take a Walking Tour of Your City or Town
How many times have you driven past an old church, taken a bus across a fantastic bridge, or ridden a subway through an incredible turn-of-the-century station, only to think to yourself "I wonder what the story is with that?" We're all guilty of letting the world rush past us, so carve out some time with your partner and take a walking tour of your city. If you live in a big city there are plenty of online resources for self-guided and professionally-run walking tours, and if you live in a smaller town, take a stroll through a different neighborhood or around your town square. Seek out the weird, the curious, the unexpected… even the smallest of towns have wonderfully strange spots like the Cowboy Hall of Fame.
And, while on your stroll, if you two get handsy doing that so-cute-it-hurts nudging into each other — or the middle school classic, the playful shove — don't be afraid to cut the tour short and make a beeline for your boudoir.
Go on a Real, Honest-to-Goodness Date
If the word "date" immediately conjures up images of Play-Doh scented playdates with your kid's bestie down the street, it may be time for you and your partner to get reacquainted with a nice night out.
And we mean go. the hell. out.
Skip the streaming services for a real movie night, swap takeout for a restaurant, and treat yourselves to a "real date." If you've got kids, schedule a sleepover with their friends. If you've got a demanding job with work that absolutely needs to get done, put in a few extra hours in the days leading up to the date night. If your friends are always hassling you to hang out, tell them you need some attention they can't provide. Clear your schedule, clear the house, get a nice dinner, go see a horror movie, play some damn putt-putt if you're really feeling freaky… just shake up the routine on any given Tuesday.
Rent a Hotel in Your Hometown
Want all the fun and adventure of a vacation but don't have time to actually get away? Book a hotel room for you and your partner in your hometown and spend a rowdy night together. Order a bottle of champagne, get some overpriced turkey clubs from room service, rent a movie (or a, you know... movie, if that does it for you), turn down the lights, and let that certain special allure of a hotel room take the wheel!
When all of these tips work wonders — and get you and your partner's passions pulsing again — make sure you're prepared for an amazing night with SKYN condoms. And for inspiration, check out how other couples got intimate around the world in their Places of Intimacy guide.
You've heard our home-based tips, but we want to hear yours! How would you add excitement to your relationship without leaving your town? Let us know in the comments below!
Giaco Furino is a Senior Writer for Studio@Gizmodo.
This post is a sponsored collaboration between SKYN Condoms and Studio@Gizmodo.