Get Ready To...) : title

Get Ready To...
Running a small business is hard work, but we're here to help. Welcome to Work Smarter, your one-stop-shop for tips and tricks to help small business owners save time and energy.
It's an entrepreneur's catch-22: logistics, minutiae, and day-to-day tasks are the backbone of a company's success… but they can also bog down a visionary to the point where they're removed from the creative work that inspired them to launch their venture in the first place. The daily grind keeps a business going, but taking a step back from that grind keeps the person running the business going. The solution? For three small business owners, it's turning some of the everyday aspects of their work over to technology.

Colette Chretien runs La Fille Colette, a boutique specializing in sustainable women's clothing, from her home base in Newton, Massachusetts. Chretien launched the business four years ago, and though she relies on an external production team to help her fulfill orders, her marketing and outreach efforts have always been a one-woman operation. She needed a software platform that, much like herself, was a one-stop-shop for a variety of tasks. She found that Mailchimp gave her that all-in-one bang for her buck when it came to marketing. The platform was friendliest to her budget, and also provided valuable insights as she grew her client base. "It was so easy to pick from pre-segmented lists of customers—lists that I didn't have to create," she explains. "People who have made a purchase, people who hadn't made a purchase, active subscribers. I could select very specific groups." By providing insights about common traits across those groups, Mailchimp supplies users with information they can use to create targeted campaigns or direct ads to the most receptive audiences. "It doesn't matter how well you might be able to sell something if you're talking to someone who's never going to be your customer," says Chretien. "What's really important is finding the right people."
For Izu Madubueze, the founder of clothing line Uhuru, customers found him and got business booming before he even knew he had signed up to be an entrepreneur. After moving from Nigeria to Florida for college in 2014, he quickly outgrew the handmade Nigerian ensembles his mother had sent with him. He'd dabbled in design since childhood, but until then, he'd never considered making his own clothes. "The clothes that were sold online were either too expensive and too low-quality, or not my style," He says. "I decided to teach myself how to use a sewing machine." After studying YouTube tutorials and taking classes at JoAnn Fabrics, he put a $300 loan from his mother towards his first sewing machine and got to work. When he wore his designs to the African Student Association's next on-campus event, he got flooded with questions about where the clothes came from. A pair of students offered him $100 per piece, and within a week he had earned $500. Suddenly, Madubueze found himself the CEO of an impromptu — yet profitable — business. As his order count exploded — within four years, he'd increased his profits six hundredfold — he was struggling to keep up with the demand. He turned to Mailchimp to help with customer engagement efforts. He knew his email outreach could be facilitated by the platform, but there were also cross-platform marketing functions and automated product recommendation capabilities available for him to take advantage of. "We don't have to worry about the logistical side of things because we know it's covered," he says of Mailchimp's comprehensive suite of services.
As the business grew — team Uhuru now includes Madubueze and four other employees — he discovered that automated services benefitted his marketing in creative ways. Uhuru's designs include traditional prints from all over the African continent — recognizing independence days and other holidays for the countries the company's clothes represented was a useful way to reach potential customers. But monitoring multiple dates for dozens of countries, and scheduling outreach in time, was easier said than done. "It was really easy to lose track of those small details because we generally have so much going on," he says. "Now we can schedule tweets ahead of time and rest assured that they're going to post."
Automating Uhuru's efforts in this way, he says, has allowed him to refocus his energy on the creative conceptualizing that the company needs — and that he enjoys most. "I struggled a bit when we were starting out. I had to be a logistics person — trying to accomplish design, production, quality control," he says. For entrepreneurs who, like Madubueze, are more interested in the creative than the technical—he'd much rather be looking at fabric samples than poring over analytics—Mailchimp's built-in support framework offers resources and tips that guide business owners towards the latest innovations available on the platform, helping them stay up to speed with marketing best practices while giving them freedom to stay immersed in their creative passion. Automating across the company's workflow, Madubueze says, "has saved me a lot of time and helped me to allocate my energy to things that can help our bankroll."
G/O Media may get a commission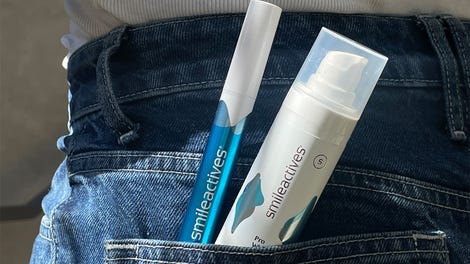 58% off
Whitening Powerhouse Pen & Gel Duo
Automation has also been a game-changer for Margaret Davidson, the co-founder of Denver-based sustainable children's apparel company Bokk Baby. "Task management is tough," she says. "Especially when the only person that's forcing you to do something on the timeline is yourself. Unless you have a ton of capital and manpower, it's difficult to grow fast as a small business." Davidson also works as a graphic designer, and her day job had familiarized her with promotion and engagement platforms. Davidson was familiar with Mailchimp from her previous jobs, and she felt that its aesthetic and interface would be the best fit for Bokk Baby. "Mailchimp is designed to be user-friendly and also millennial focused in terms of its graphics and the way it's laid out — and millennials are one of our big demographics," she explains. The platform gave her the look and feel she wanted to communicate to her customers, but also offered insights on the most effective ways to achieve that communication with its in-depth analytics. "We wanted to be able to communicate regularly with our customers," she says, "but also to be able to segment information to different users and customers based on their past interactions with our brand." By fulfilling both functions, Mailchimp's all-in-one Marketing Platform gave Davidson peace of mind, allowing her to take a step back from day-to-day minutiae and focus on the future of the brand.
For each entrepreneur, turning over key elements of their workflow to automated systems has freed up their energy so they can focus on the big picture of their business. "Technology is all about targeting—for me, it became increasingly apparent how important the right targeting is for marketing, and for any kind of outreach." Adds Davidson, "being able to manage all of the different people who've interacted with your brand has been so important. And I couldn't imagine doing it without the software."

Rachel Mosely is a writer and editor living in Brooklyn.
This post is a sponsored collaboration between Mailchimp Mailchimpand Studio@Gizmodo.