Does this story sound familiar? A woman graduates with a liberal arts degree and immediately realizes she has no clue what to do with it. (Yes it does.) What about the one where a Gender and International Studies double major takes a five-year journey across international borders to become an independent graphic designer? No? Well, it's a good one.
Welcome to How I Landed My Job, a series of stories about graduates who took an unconventional approach to landing a job they love. As part of Fifth Third Bank's Brand of You campaign, $1 million in one-on-one career coaching scholarships is being given away to recent graduates. Head here to learn how you can enter for the chance to win job search training, worth $1,000.
After graduating high school, Cari Sekendur didn't know what she wanted to do with her life. "I had no real perspective on what I could study that would lead me into a fulfilling creative career," she says. "I'd always been attracted to visual arts and I pursued them heavily in high school." But once in college she denied herself a creative major — she was afraid that a career in art or design might not offer a reliable source of income.
Cari looked to other intellectual pursuits, hoping they would offer professional direction. A rewarding exchange program in Spain inspired her International Studies focus and she added a Women, Gender, and Sexuality Studies major after taking an enlightening Intro to Women's Studies course. But Cari soon found that, while intellectually stimulating, these majors didn't ensure a high-paying job after graduation.
G/O Media may get a commission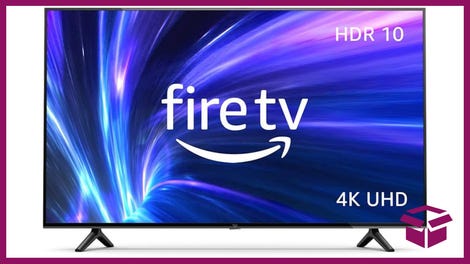 42% Off
Amazon Fire TV 50" 4K Smart TV
Now What?
Cari's initial career strategy was all over the place (to put it mildly). She bought an LSAT book and talked to people who worked in PR, academia, and business. She interviewed with Nielsen, Twitter, and Google, and even interned at the Department of the Treasury. "Every possible option was on the table at one point or another," she recalls. The one exception was the option dearest to her heart: art. "I felt like I'd missed my shot," she says. "I didn't want to spend another four years getting a second bachelor's and I wasn't qualified for a masters since I didn't have any design experience."
Gotta Startup Somewhere
Cari's began her career in the startup world, which was going strong when she graduated in 2010. "Since I had no idea what to do with my career, I figured I might as well start in a fun environment where I could wear jeans to work," she remembers. An internship at Groupon in Chicago turned into a full-time position, and that experience led her to AppNexus, an ad tech company in New York where she worked as a Marketing Coordinator. "The work I was doing was very dry and data-heavy," she remembers. Cari missed her creative outlets, and started thinking about how to get back into them.
"I really struggled with knowing I wanted to pursue design as a career, but I wasn't sure what type of design, and had absolutely no idea how to get there," she says. Cari confronted this challenge by indulging her creativity outside of work. In Chicago, she took drawing and metalsmithing classes as well as a Design Thinking course at the School of the Art Institute, which she credits as "the first thing that really made me feel like design was the right direction for me." During her stint at AppNexus in New York, she took classes at the Brooklyn Brainery and volunteered at a design nonprofit. She had no idea these creative extracurriculars would eventually offer professional direction when she needed it most.
From Job Loss to Career Gain
Cari's next startup stop was the design-focused product company, Fab.com. After working in their New York headquarters for six months, she pushed for an exciting opportunity: moving to Germany to establish their EU office. Cari uprooted her life, and spent a little over a year managing an operations team in Berlin. While there she found another design forum in Betahaus, a creative coworking space. She took classes in book arts, product, and concrete design — she even taught a few workshops herself.
Then a professional nightmare happened: Fab.com laid off nearly their entire Berlin staff. "It was a huge shock," she remembers. But for Cari, "what now?" sounded more like an opportunity than a lament. Almost without realizing it, she had been building a professional safety net for years and was poised to try something new. One of her Fab.com colleagues informed her of a three-month intensive graphic design course for professionals changing careers, and Cari jumped at the chance.
Cari's leap of faith landed her right where she wanted to be. Now, five years after graduating from college, she's finally found her calling as a freelance designer. She spends three days a week at LMNOP Creative in Brooklyn doing branding for clients in the hospitality industry. The rest of her time is spent working directly with clients on web design, logos, branding, digital ads, and print collateral. "It feels really satisfying when all of the pieces come together in a project," she says. "It's a feeling I never had in other types of work I did."
Worth it in the End
"I have a different background than most of the candidates people are looking at," Cari acknowledges. But she's found that the years she spent navigating a corporate workplace helps her stand out in a sea of freelance designers. "It's been helpful to play up my work experience — especially marketing and client-facing experience," Cari says. She also values the communication skills she learned at previous jobs. "I've been told that while I may not have as much experience as someone who has been designing for longer than me, the way I speak about my work sets me apart." Well that, and the whole being stranded in a foreign country without a job thing.
You've heard Cari's story — now it's time to share yours. If you could do it all over, would you choose a different major? Where have you found creative outlets outside of work and how have they impacted your career? Did your education or first job send you in the direction you hoped for, or did you have to rethink your approach? What's the craziest thing you ever did to get an interview or land a job? Share your career stories in the comments!
As stories like Cari's prove, a college degree doesn't guarantee a full time job offer. Most graduates don't know how to develop and promote their strongest asset: their personal brand. That's why Fifth Third Bank teamed up with NextJob to create the Brand of You campaign. As part of this initiative, Fifth Third Bank is giving away $1 million in personalized job search coaching to help recent graduates navigate the job market as they deal with paying student loans.

All it takes to enter is a simple Tweet. Visit 53.com/BrandofYou to learn more about how you can win a job search training package worth $1,000, or tell us why you deserve a scholarship by posting a Tweet with #brandofyou and #53enter for a chance to win. Fifth Third Bank. Member FDIC.
Headshot by Alexander Coggin.
This post is a sponsored collaboration between Fifth Third Bank and Studio@Gawker.