If you ask Mikaila Brown, a fashion expert with a Ph.D. in anthropology, what she does for a living, she'll explain that she aims to do "for fashion what Anthony Bourdain did for food." But for Brown, who has an unusual combination of talents, the road from big dream to functional career wasn't exactly straightforward.
Since childhood, she knew she wanted to be a fashion designer. At 5'11", she was all too familiar with the struggle of finding stylish clothes that fit her properly, but she also knew she had the creativity and insight to help solve the problem. There was just one roadblock: her practical-minded Jamaican parents, and particularly her professor father, who wasn't as confident in her chosen career path as she was. "My father said, 'You can be a starving artist, but I need to know that if I die, you can take care of yourself,'" she explains with a laugh. So they struck a deal: As long as she got a graduate degree, she could do whatever she wanted.
So Brown pursued a doctorate in anthropology at Columbia University. "I love being Jamaican. I love my culture so much that anthropology was the natural place for me to go in graduate school," she says. After earning her Ph.D., she spent two years working a nine-to-five at a nonprofit, but she still felt the pull of her original design dreams. So she moved back home to Florida and started a fashion line.
But the going was tough. Even after relocating to New York City to be in the center of the industry, "it was really hard to make ends meet," she says. "I was selling to friends and family, and I have a lot of friends and family, but not enough to sustain me for the rest of my life!" she says. "I had to stop after four years because I wasn't making any money." In 2017, she found herself in a position familiar to many creatives: desperately in need of a side hustle.
G/O Media may get a commission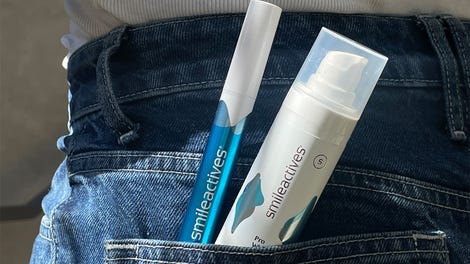 58% off
Whitening Powerhouse Pen & Gel Duo
Luckily, that was when inspiration struck. Brown saw an opportunity to combine her love for fashion, her expertise in anthropology, and her passion for her neighborhood, Harlem. She launched a blog, The Common Thread Project, as a platform for a specialty shopping tour of Harlem. The tours, which she called "Sidewalk Safaris," combined personalized styling with insight into the sartorial history of the neighborhood and face time with local shop owners and designers. "No one was going pay me to do what Anthony Bourdain did. I don't have the platform of being on television, but I could individually offer [my tour] until I got enough traction."
Though Brown knew that she was on the right track, the venture took some time to find its footing. She remembers it as being daunting initially. "I was giving one tour here, one tour there. It wasn't really happening for me."
Her Sidewalk Safaris were still getting off the ground in the summer of 2017 when she heard that Airbnb was launching an Experiences platform — an extension of its core vacation rental service focused on guided tours and excursions led by local hosts. She applied, got the gig, and started landing customers for her tour via Airbnb. Suddenly, her quirky combination of talents clicked into place as an in-demand service.
"One of the things I love about Airbnb is that no matter what your interests are, you can monetize them," says Brown. "People specialize in things that are so specific and dope and random, and they can make money from them." Airbnb Experiences also introduced her to a new audience. "I'm not a social media maven," she explains. "It's not like there are millions of people following what I do. Airbnb made it possible for people everywhere to know about me — and to pay me to do what I love."
That pay has had a significant impact. "I had never experienced weekly money coming into my business account," she says. "That's a really major deal. When I had my fashion line, and even when I first launched my tours, there would sometimes be weeks or months when I was making zero money. I had to work all these side jobs just to pay my rent. Now, there are times when I have money coming into my account every other day from work that I'm doing for myself. It's been the most empowering thing I've ever experienced."
Another huge benefit: Brown can spotlight a side of Harlem that doesn't get enough shine. "When you say fashion in New York, people think SoHo, they think Brooklyn. But they do not think Harlem," she says. "I felt a call to make people fall in love with fashion in Harlem, and to fall in love with Harlem in general."
The tours also help Brown bring attention — and customers — to local business owners in the rapidly gentrifying neighborhood. "As a marginalized black designer, I know how hard it is to make it in the fashion industry," she says. "And a lot of retail spaces in Harlem are closing because the rent is so expensive. One of the ways to keep them alive and open is by giving them customers. If you visit New York and you don't go to H&M and Zara, you actually get to see what the locals are wearing. But even more importantly, you're supporting a black designer."
Since her tours have taken off, Brown is now able to expand her business far beyond the reaches she initially thought possible. Next year, she plans to launch Sidewalk Safaris as Airbnb Experiences in Atlanta, Washington, D.C., Chicago, and Los Angeles. "Because Airbnb is so sustainable, I can think about growing because I have the funds to say, 'OK, I can hire someone to give my Harlem tours and I can start them someplace else.'"
The Experiences platform has also given Brown creative energy that wasn't possible when she was bogged down by the burden of making ends meet. "After four years of running an unsuccessful fashion line, I was living in a space of scarcity," she says. "I was embodying a 'starving artist.' Sometimes the words you say to yourself become your reality. I was stuck thinking, 'I'm never going to make money doing what I love. I'm just going to have to always hustle on the side and do this for fun.' I've been able to flip my frame of mind to, 'You can sustain yourself with this.'"
Brown says the Experiences tours have helped her to fully realize what her specialization — fashion anthropology — really means. "I called myself a fashion anthropologist from the beginning, and to be honest, it was kind of a gimmick," she admits. "I had a degree in anthropology and I was working in fashion, so it was just a way for people to understand all the different parts of what I do." She's transformed what seemed like an idiosyncratic niche into a powerful means of serving her customers, her community, and her own bottom line. "Airbnb has capitalized on all the things that I'm good at and that I love doing," she says. "And it's really helped me to define and refine who I am and what I do."
Rachel Mosely is a writer and editor living in Brooklyn.
This post is a sponsored collaboration between Airbnb and Studio@Gizmodo.