Imagine someone attending a wedding and earnestly saying, "Omigod, the burlap sacks and mason jars. They were SO unique and memorable."

If it sounds silly, it's because no one has ever uttered those words — at least not since the early aughts, before Pinterest began its iron(and twine)-fisted reign over everything remotely wedding-related.
There's nothing wrong with turning to Pinterest for inspiration, of course — but in an endless sea of upcycled apothecary bottles, twee flower crowns, and barn houses strung end-to-end with fairy lights, how do you make your wedding feel unique? I turned to a handful of married friends for their wisdom.
Most broke from convention by choosing less traditional attire, wearing unconventional wedding gowns or encouraging their bridesmaids to choose their own outfits. Others favored more subtle choices, like bestowing their guests with creative wedding favors such as customized match boxes or climbing carabiners.
G/O Media may get a commission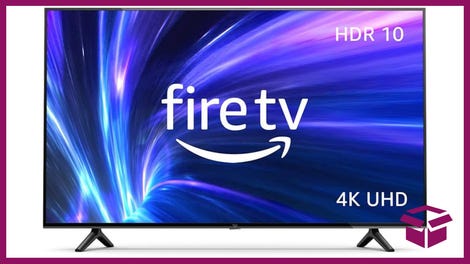 42% Off
Amazon Fire TV 50" 4K Smart TV
"We almost skipped our vows to spend more time on the fun stuff," one recently-wedded family friend shrugged. "Our wedding planner convinced us to go with something short." A close high school friend made another amusing pragmatic choice: "We had a designated teepee for any kind of family feud or emotional meltdown," she said.
My coworker, Nandita, offered excellent input as usual. "Think about your your wedding like you're decorating your own apartment. Fill it with things you think are beautiful rather than things that everyone else is using at the time," she advised. "I ended up just looking in farmers markets and gardens for flowers that I liked and took pictures and shared them with my florist."
Gardens provided similar inspiration for my friend Aimee, who was on a tight budget. "I didn't buy flowers for my reception except for my bouquet and flowers for bridesmaids' hair," she said. "The flowers I did decorate with, I snuck out late the night before my wedding and clipped from yards or sunflower patches. We only took one or two from any given yard, so we weren't complete jerks."
Readers, what about you? What touches did you put on your wedding to make it feel extra special? Or, what have you witnessed that made a wedding better than basic?
Whatever you go with, start wedding planning by shopping at David's Bridal. Stocked with everything from decorations to favors, to dresses galore, you're sure to find the wedding adornments that are right for you.
Angela Wang is a Senior Writer for Studio@Gizmodo.
This post is a sponsored collaboration between David's Bridal and Studio@Gizmodo.