Sina Afrooze didn't plan on developing an HD Micro Dome camera that could fit in the palm of your hand. Afrooze is the Director of Device Development at Avigilon, a surveillance software and equipment company. His team of design engineers were looking to create something affordable and innovative within the HD realm, but, in typical engineer obsession (I mean, fashion), the construction process was akin to a songwriter spending countless hours perfecting a single verse…and having it take on a slightly unexpected (but very catchy) tune.
"Probably the most enjoyable part of this process was finding innovative ways of constructing this camera," explained Afrooze. Drawing inspiration from constantly shrinking cell phone design, Avigilon's team of engineers placed the brain and processor of the golf-ball sized camera in the back-end ethernet-powered smart cable, leaving only the sensor and 2.8mm lens in the head, making it eight times smaller than Avigilon's existing dome camera. They then ran a number of impact and temperature tests to ensure that the tiny Micro Dome cameras they had created could be used for both indoor and outdoor application, and serve the security needs of an array of venues and facilities.
The result: the somewhat unexpected birth of the world's smallest, most inconspicuous HD dome camera (kind of a big deal in the world of surveillance) with horizontal angle views of 86 degrees and coverage up to 55 feet. The HD Micro Dome streams up to 30 frames per second, and can withstand temperatures ranging -10 to 50 degrees Celsius, proving the old adage, sometimes big things come in small packages.
Micro Dome technology is the latest big thing for Avigilon (ok that's the last size pun…hopefully). The designers at Avigilon are making a habit of developing technology that reshapes the world of surveillance. One example of their success is their work with the Rogers Centre in Toronto — the 50,000-seat home stadium of the Blue Jays and host venue for an array of entertainment events — where they deployed a cadre of 16 MP surveillance cameras throughout the interior and around the exterior of the building to speed up response time. The Rogers Centre's security team can now respond rapidly if a fight breaks out in the parking lot after a rowdy concert (Canadians are known to be spirited concert-goers), if a spectator faints from an overload of home-team spirit (or dehydration) during a Jays game, or if - for the love of Canada - the beer vendor in Section 220 runs out of cold beverages during the seventh-inning stretch.
Avigilon may be delivering the most elite surveillance technology, but the company is also helping its clients significantly reduce their security costs. The Oklahoma County Sheriff's Office (OCSO) saves an impressive $10 million annually in additional security manpower after installing 138 Avigilon HD surveillance cameras in the OCSO's 13-story detention center. Their army of surveillance cameras helped expedite conflict resolution and dispel unfounded inmate complaints, like, say an inmate head-butting an officer and then complaining that the officer used excessive force. Any technology that reduces head-butting incidents deserves serious recognition.
G/O Media may get a commission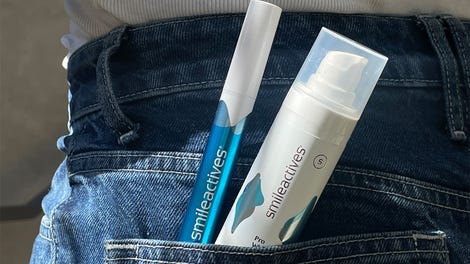 58% off
Whitening Powerhouse Pen & Gel Duo
Grippon, a Brazilian department retail chain, also employed Avigilon's equipment to crack down on shoplifting at its Rio de Janeiro location. They installed forty HD 1 MP and 2 MP dome cameras to monitor more than 21,000 square feet of retail space with image clarity that can pinpoint the logo on a shoplifter's hat or the numbers on a suspect's license plate. With its new Micro Dome technology, Avigilon now delivers an innovative, cost-effective, and more discreet approach to boost security surveillance for retail companies like Grippon without sacrificing the image quality of its other industry-leading HD surveillance cameras.
So what exactly does that mean for the future of surveillance security at massive entertainment venues, large retail spaces, or uber-secure government facilities? It means improving the efficacy of customer service. It means streamlining conflict resolution and putting an end to dangerous situations before they get too far out of hand.
It means having the latest and greatest in HD surveillance solutions literally in the palm of your hand. You know, until Afrooze and his team decide to have some more fun and develop an HD surveillance camera the size of a fingernail.
Head here to learn how Avigilon can customize a solution to meet your surveillance needs.
Ryan Collins' work has been featured in American Way, Yahoo! Sports, D Magazine and other major publications. He's also been known to grow a beard every now and then and watch Golden Girl reruns.