You've got the perfect PC build (or a brand-new console). You've chosen the right monitor or TV for your setup. Now it's time for… everything else.

To help you out, we assembled a starter's guide to the best gaming peripherals. From mice to keyboards, controllers to headsets, and even seats, these are the best gaming peripherals for anyone looking to level-up their gear (and their game).
---
Becoming a better gamer is about precision improvements. Overclocked, inspired by Gillette, helps you level up your esports game via precision in practice, on-screen and IRL. 
G/O Media may get a commission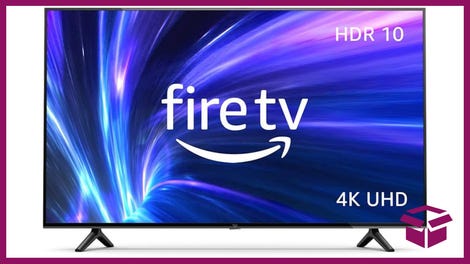 42% Off
Amazon Fire TV 50" 4K Smart TV
---
Mice
It sometimes feels, when looking at a collection of gaming mice, with their odd edges and geometric angles, like you're seeing early concept designs for a new Transformers movie. But there's so much more that goes into the right pro gaming mouse than how it looks.
One of the biggest factors in choosing the right mouse is its DPI, or Dots Per Inch. Essentially, the higher the DPI, the more reactive and sophisticated the mouse is at tracking slight and subtle movements. For twitchy, intense FPS, the name of the game is accuracy. Many pro CS:GO players use mice from Zowie, especially the EC series of right-handed mice and the FK series of low-profile, ambidextrous mice. With the ability to switch between a hyper-sensitive 1600 DPI (best used only for sniping) and a more manageable 400 and 800 DPI, the Zowie series shrugs off flashiness for fast adaptability.
For RTS and MOBAs, versatility is key. Most of the best-in-class mice here offer a few extra side buttons that users can map some of their abilities to. For the most extreme example, check out the Razer Naga, which features 12 buttons hiding right where your thumb goes! You may never have to touch your keyboard again! For a flashier (but less-intense) version of the Naga, check out the Razer Naga Hex V2, which offers seven buttons around a rubberized thumb grip.
Keyboards
Though they're not as varied as mice, keyboards still offer plenty of options to sort through in terms of style and customization. One of the biggest mechanical points of customization in a keyboard is the actuation switch inside the keys.
Almost all keyboards use one of three main actuation switches (made by companies like Razer, Kailh, and Cherry), color-coded as Black, Red, and Brown. Each offers something different. Black switches are stiffest to click down, best for if you're afraid of accidentally clicking a key. Red are easier to click, allowing for more rapid keystrokes. But neither offer a very tactile response, so many pro gamers opt for Brown switches in their keyboards, which have more of a punch and click to them, and are less silent than the others.
Regardless of which mechanical switch sounds best to you, fine-tuning your experience will only help up your in-game precision and performance. The general consensus says that Corsair's series of gaming keyboards is the best in class. Many of these keyboards even offer various colored backlighting so you can illuminate different keys in different colors (points for style).
Controllers
Controllers in the pro gaming world are a funny thing. If you're playing a competitive game on the PS4, you'll likely use a traditional PS4 DualShock controller. If you're playing on Xbox One, you'll likely either opt for the Elite Xbox controller or pro gaming controllers from SCUF. Though most esports played on PC use a mouse and keyboard, a few, like Rocket League, are played with controllers, in which case the Xbox version is favored.
Chairs
The days of tricked-out rocking chairs with built-in surround-sound speakers are a bit past us; most pro gamers just want what's best for their performance. As such, chairs like the Aeron from Herman Miller and the Alera Elusion Series are favored over anything too fussy. Basically, when choosing the right chair for your gaming setup, make sure it has a comfortable back (most gamers prefer mesh), some lumbar support, and a sturdy base. And while there are pros and cons to both stationary and swivel chairs, in the end the chair all comes down to personal comfort. Buying one online? Best to try it out in a store first and make sure it fits your body.
Headsets
In December a very active Reddit thread warned that buying a gaming headset (i.e. headphones and a mic packaged together) was a mistake, because most of them try to cram too much stuff into a lousy product. Instead, those in the know recommend buying a pair of good headphones like the Audio Technica ATH-AD500X Audiophiles and pairing them with a decent microphone like the Blue Snowball iCE Mic.
If you really do want an all-in-one gaming headset, your best bet is the HyperX Cloud II, which offers 7.1 surround sound with specific attention paid to distance and depth. Remember, gaming headphones aren't like regular headphones: You don't need to know exactly how far away the guitarist is from your ears on a record, but you do need to know how far that soldier is who's running up behind you.
Use this guide as a starting point and start asking yourself these customization questions: Do I want to avoid keyboard misclicks? Do I want (possibly crowded) set of mouse side buttons? Am I going to get annoyed by a swivel chair, or will I need the slight movement to help dispel extra nervous energy? Let us know which gear you prefer in the comments.
Giaco Furino is a writer living and working in Brooklyn. He contributes frequently to The Creators Project, Tribeca Shortlist's Outtake, Rhapsody magazine, and more.
This post is a sponsored collaboration between Gillette and Studio@Gizmodo.