Finding the perfect Father's Day gift can be a struggle. What do you get the man who says "Nothing," "I dunno," or "Just some socks" when you ask him what he wants? Knowing his favorite sports teams can help spark some gift ideas, but what do you do if those teams are constantly letting him down? Here's a Father's Day gift guide that will help dad deal with the agony of defeat.
Luckily, you can find these items and more at Walmart's Fan Shop and Tailgating sections.
---
Nothing screams "this is our year" like a stylish and lightweight New York Yankees T-Shirt. It will help dad stay confident, cool, and comfortable all summer long — whether he's at the stadium, or just watching on TV at home. And if the game doesn't go his way, he can use the shirt to wipe up his tears.
---
G/O Media may get a commission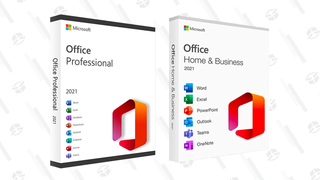 89% off
Microsoft Office Professional 2021 Lifetime License
This pair of LSU Tigers Fleece Joggers are comfy and versatile, and just as good for running as they are for lounging. But most importantly, they have an elastic waistband and drawstring — which would've been perfect for when dad ate his feelings following last season's tournament loss.
---
Your dad deserves to feel like a winner. That's why this sleek Virginia Cavaliers NCAA Men's Basketball National Champions Hat is a great gift idea. Even if the Cavaliers isn't his team of choice, he can still put on the hat and magically transform into the champion he always wanted to be. And it's adjustable, to accommodate his ballooning ego.
---
Dad can comfortably lie on the beach, soaking in the summer rays (and reliving the glory days) on top of a Pittsburgh Steelers Terrible Towel, featuring championship rings from seasons that were more successful than last. It's perfect for the stadium, too, where he can wrap it around his head to block out the sights and sounds of opposing fans taunting him during the game.
---
This sheltering Alabama Crimson Tide Canopy will ensure that nothing can rain on your dad's parade at the tailgate, not even a heartbreaking championship loss. Maybe next time he'll opt to skip the game and spend the day under this sweet canopy instead, because you can't be sad if you don't know the score.
---
Turn your dad into the King of the Tailgate by adding this extremely comfy Tailgate Padded Couch to pamper his adoring parking lot guests. What's that old saying, "misery loves company?" Well, it loves plush outdoor seating, too. And the two-day shipping option makes for a perfect last-minute gift.
---
Maybe his favorite player gave a sub-par performance last season, or maybe he just misses the '80s. Whatever the reason, raise his spirits and strike up nostalgia with this loose and airy Larry Bird Boston Celtics Jersey that he can wear while shooting hoops, grilling, or watching classic games on repeat.
---
While we can't do anything about the final score, we can score points with dad by putting a smile on his face with gifts that let him know we're thinking of him...and that we feel his pain.
For more great Father's Day gift options, check out Walmart's Fan Shop and Tailgating sections.
Vicky Kuperman is Associate Creative Director for Studio@Gizmodo
This post is a sponsored collaboration between Walmart Fan Shop and Studio@Gizmodo.