People crowding around the display in the paddock at Laguna Seca had one of two reactions to the Koenigsegg One:1. "I can't believe I finally get to see this in person," or "Wait, what is it?" To the latter, here's the rundown: It is the first megacar ever produced. And that label is not hyperbole.
Its name is derived from the fact that the power (1360 PS) to weight (1360 kg) ratio is one to one. That enormous power output also happens to be equivalent to one megawatt — hence "megacar." (Take that, hypercars and supercars.) It's a remarkable product born from the mind of a remarkable designer, Christian von Koenigsegg. The Swedish auto wunderkind has a lengthy resume of building better mousetraps, particularly in the face of skepticism and adversity. Time and again, Koenigsegg has proven the haters wrong. And the One:1 is no exception.
"This is the last one of the six that we made," Koenigsegg says, gesturing at his pride and joy, the first to reach American soil. "It set the 0-200-0 record, then beat it. Twice. But I still think we can do better," he laughs. Amazingly, it did it all on a single set of Michelin tires, the longevity of which surprised Koenigsegg. "There's a reason they come standard on the One:1. That same record-breaking set is still only halfway worn," he says.
G/O Media may get a commission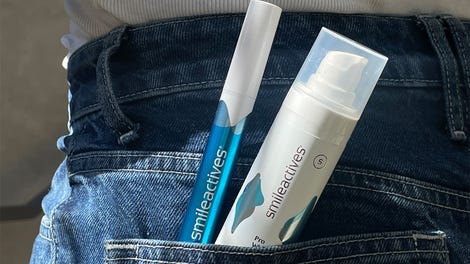 58% off
Whitening Powerhouse Pen & Gel Duo
The monster will claw its way to 60 mph in 2.7 and hit 120 mph in under 6. "By the time you hit third gear, you'll definitely be wide awake," he says slyly. Those numbers are all the more impressive given the fact that it's only rear-wheel drive. While supercar manufacturers increasingly embrace all-wheel drive, Koenigsegg shuns it. "The weight of adding an all-wheel drive system removes any advantage the system itself possesses, and you end up shaving off valuable seconds," he explains. "So we didn't use it. Besides, all-wheel drive means you have to compensate for the torque steer with the front tires." He's not ruling out a future megacar with AWD, however. "Once in-wheel electric motors become small enough to where the mass doesn't offset the balance, then we will use them."
When you set out to make the epitome of a track car, these days that means it needs to be responsive to the track it's on, whether that's Nurburgring or Spa or Suzuka. "The One:1 has a 3G connection, which works in conjunction with a GPS system that instantly analyzes which track the car is on and adjusts it accordingly, automatically. So, for example, if you're heading into the carousel in Nurburgring, it will stagger your suspension so it doesn't scrape as much," he shares. Ask the man who is revolutionizing racing and automotive technology if he ever thought he would have earned a place in the history books when he started out and he's quick to shake his head. "I went in thinking this would be a total failure or a total success. And I just went for it." I'm glad you did, Christian.
A mere two feet away from the fastest car in the world sits a little number that hoped to achieve that same accolade, yet failed miserably. However, in failure, it still managed to revolutionize the auto industry. Meet L'Eclair — French for "lightning bolt." This 1895 creation by the Michelin brothers themselves wasn't named for its speed.
"No manufacturer wanted to use pneumatic tires on their cars, but the brothers knew this was the future, so they built their own car," says Oscar Pereda, Michelin's Director of High Performance. "The problem was the car was set up for non-aired tires, so the suspension and the steering were off and it would zigzag back and forth when it drove, like a lightning bolt."
Inability to drive straight be damned. The brothers were proud of their innovation and entered it into an 1800 km race from Paris to Bordeaux and back again. The whole thing was a calamity. Someone put water in the gas tank and gas in the water tank, and the engine overheated, bursting into flames. Once the fire was extinguished, chewing gum was employed to keep the engine together. Somewhere along the way second and third gear stopped working all together.
They finished the race within the 100-hour limit, though they arrived dead last. "But they'd proved that driving on air could be done, so despite their poor finish, they took the car on a 2,000km tour of Europe to show it off," says Pereda. Gotta love that moxie. Without it, who knows how long it would've taken the world to get rid of solid rubber tires, wooden spokes, and the glue that held it all together.
Now that you've seen what's happening at Monterey Car Week, it's time to get in on the action. Enter the sweepstakes and share a photo or video featuring your favorite car-related moment — whether something from your personal history or a historical event — using both the hashtags #MichelinSweeps and #CarWeek. This year, Michelin is giving one grand prize winner an all-expenses-paid trip for 2 to Monterey Car Week 2016. Seven Jalopnik readers will also win a set of MICHELIN® brand passenger or light truck tires. Born from endurance racing, they give you the exhilaration of driving the best performing street tire in the world. Head to michelinsweepstakes.jalopnik.com to see other entries for inspiration.
Congratulations to Tom C who won a brand new set of MICHELIN® tires yesterday for his winning #MichelinSweeps entry HERE.
Michelin's contest rules apply, as well as our standard contest rules. Only open to US residents, 18 and older (19 and older in Alabama and Nebraska). Readers may also enter by sending their contact information to Gawker Media, Attn: Michelin Sweepstakes at Monterey Car Week, 114 Fifth Ave, Second Floor, New York, NY 10011. The contest begins on August 8, 2015 at 11:59 AM ET and ends on August 16, 2015 at 11:59 PM ET.
Photos by DW Burnett/PUPPYKNUCKLES.
Sean Evans is a writer living in New York who is as shocked as you are that it's still possible to make a living as a writer. He's big on all things automotive, whiskey, and heinous reality television. He tweets here and Instagrams here.
This post is a sponsored collaboration between Michelin and Studio@Gawker.