The holidays are a time to give back, and shower your family with gifts that show how much you truly appreciate all that they do for you during the year. But if, in the course of giving back, you happen to get yourself a little something out of the deal — hey, all the better, right?
Here are the best holiday gifts for your family that also happen to include some awesome fringe benefits for you. After all, everyone knows that good relationships are based around developing a healthy give and take. So if you happen to, say, give your sister a line on the Sprint Family Share Pack without taking a financial hit (you can add up to nine lines for the same price as your own bill), well, that's just part of your commitment to the true spirit of family and the holidays. You're so giving. You're basically Santa Claus, if you think about it.
What this gift says: "It's a new DVR, just like you wanted! One that records up to six shows at once, and also streams live and DVR'd shows to your iOs device. Now you never have to miss another episode of Homeland just because you're traveling for work!"
What this gift actually does: Allows you to abandon your traditional "tense Sunday evening TV power struggle" by enabling both of you to watch live TV on your devices. So really, it's an investment in your future as a family (and also an investment in your ability to view Game of Thrones without listening to your partner kvetch about how annoyed they are about having to watch "that show with all the sexy dragons or whatever.")
What this gift says: "I think your cooking is professional grade, so I got you this top-of-the-line, professional grade Dutch oven that'll help you make all those slow-cook winter stews and roasts you've been salivating over."
G/O Media may get a commission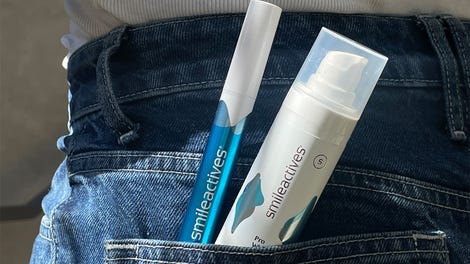 58% off
Whitening Powerhouse Pen & Gel Duo
What this gift actually does: All but ensures that you're going to be on the receiving end of those winter stews and roasts — after all, who's going to cook and eat 7 ¼ quarts of pot roast by themselves? (Warning: if your loved one is regularly making and consuming 7 ¼ quarts of pot roast by themselves, please contact a medical professional.)
What this gift says: "I know you love to get out there and paddle. Let's strengthen our bond by exploring the great outdoors together on this light polyethylene tandem kayak!"
What this gift actually does: Keeps you from ever having to admit that you are way too freaked out to even consider kayaking on your own.
What this gift says: "I love and respect your zest for living, enthusiasm for surprises, and passion for pork products. This gift, which will deliver two pounds of unique hand-flavored bacon to your door each month, reflects each of the traits I so treasure in you."
What this gift actually does: Makes sure your family member always has something in the fridge for you to snack on when you come over. Last time you looked in there, it was all baking soda, half a bottle of sweet vermouth, and some duck sauce packets.
What this gift says: "I've noticed all the hard work you put in at those Saturday morning soccer games. Keep practicing! I believe in you!"
What it actually does: This high-tech soccer ball doubles as an outlet — it stores kinetic energy and converts it into electric energy that can power small appliances when the ball is not in use. Now you can ensure you always have enough juice to play Words with Friends during those Saturday morning soccer games. (What? They're second graders! They're just not very good at soccer. Is it a crime to only pretend to be watching a bunch of seven-year-olds call their 12th time out?)
What this gift says: "I miss talking to you now that you're all the way across the country! This phone plan will let us talk and text all the time for a really low price, so we can keep in touch!"
What this gift actually does: You can add up to nine lines to your own plan with the Sprint Family Share Pack, without changing the price of your plan. Hey, gifts can be thoughtful, loving gestures about how much you miss your long-distance relatives AND save you some money on gifts at the same time, right?
What this gift says: "I know you love [top 40 pop singer]/ [classic rock band]/ [that techno guy who plays out of a giant replica of his own face], so I got you these VIP concert tickets: guaranteed great view, a pre-show snack and drink reception, and no strangers spilling a $10 beer in your lap."
What this gift actually does: Provides you with all the same goodies listed above — as everyone knows, when you give a pair of tickets as a gift, the giftee has to take you as their guest. To do otherwise would be selfish, and in total and utter violation of the true spirit of selfless holiday giving. And what kind of monster would do that?
Get in the selfless holiday spirit by giving your family the gift of unlimited texting. Learn more about Sprint's Family Share Pack here.
Gabrielle Moss has written mostly funny stuff (but also some serious stuff) for GQ.com, The Hairpin, Nerve, etc. You can follow her here.
This post is a sponsored collaboration between Sprint and Studio@Gawker.