Science says that lasting relationships come down to two key things: kindness and generosity. Imagine if we infused all our interactions with a little warmheartedness. More than just making our relationships last, random acts of kindness can actually alter your brain chemistry. So why not open up, reach out, and non-creepily touch another human? Here are a few ways to get you started on your mission to transform mood — and make someone else's day — with good vibes.
1. Donate your old electronics. You know you don't need an extra tablet, you know that. Lucky for you and yoru karma, the National Christina Foundation has a database of organizations that collect old gadgets. There are many ways to donate — either by mail or by walking that old clamshell laptop (remember those?) over to a drop-off point near your home or office. You never know, that 8th grader who ends up with your old laptop could learn to code and build a world-changing startup.
2. Hack your neighborhood. Neighborland is an online tool that helps you connect and organize with your neighbors to make your neighborhood a better, cooler place. The project was born from artist Candy Change's "I Wish This Was" project in New Orleans and has spread nationwide, pairing residents with city organizations to help create real change. In Houston, Neighborland is helping residents of the Washington Avenue neighborhood to create more walkable, livable space by adding a streetcar, burying power lines, and supporting local businesses. We all have little things about our neighborhoods we wish we could change, and now it's easier than ever.
3. Take your little brother or sister to Maker Faire to blow their mind and get them excited about science, design, and engineering. There are already Maker Faires scheduled in New York and San Francisco, where you can get involved as a maker, a visitor, or a sponsor. You can also create your own Mini Maker Faire if your town is in need of some tech show-and-tell.
4. Help close that ugly gender gap in tech and teach a girl to code. Girls Who Code gives girls the tools they need to geek out over computer science — and they need your help. The organization pairs with individuals and businesses for summer immersion programs and smaller community classes. Even if you don't know how to code yourself, you can get the tech team at your job involved with the organization and do something good at work. Really, this is two good deeds in one — you can help tech evolve into a more inclusive enterprise and get your co-workers doing something truly rewarding.
G/O Media may get a commission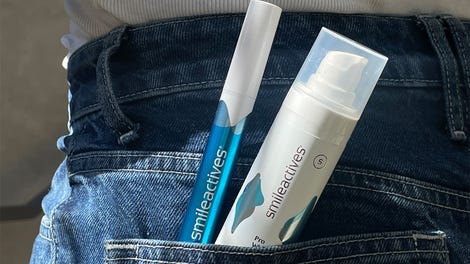 58% off
Whitening Powerhouse Pen & Gel Duo
5. Volunteer at Girls Rock Camp. Is the electric guitar that used to be your pride and joy in the '90s gathering dust in the corner of your apartment? Are you not even sure whether the keyboard you played in college still works? You can flex your rock-and-roll muscles by teaching musically inclined tweens how to be riot grrrls all at the same time. Volunteer to teach at an existing camp (they're all over the country), or start your own. Not a natural born shredder? There are admin and roadie positions available as well. The Girls Rock Camp Alliance is also looking for donations.
6. Catch a wave, brah. Founded by a group of die-hard surfers, the Surfrider Foundation leads beach cleanups, ocean monitoring programs, and training in how to design landscapes that prevent toxic run-off, all for the love of the ocean and preserving a stellar wave. If you live anywhere near a large body of water you'll be able to find them — the foundation has chapters on every coast and along the Great Lakes.
7. Tutor at 826. Writer Dave Eggers' massively successful project to help under-resourced kids get into writing and publishing encourages creativity with the help of cool mentors. Even if grammar isn't your thing, you'd probably make a pretty cool older sibling, and there are a ton of ways to volunteer, like helping lead field trips for entire middle school classes. 826 has locations in San Francisco, Chicago, New York, Detroit, Boston, Los Angeles, Seattle, and Washington, D.C..
8. Knit a blanket for an abandoned animal. Several charities need your crafty skills to make warm coats for abandoned birds who have lost their feathers due to stress, leggings for disabled dogs who need protection against cuts and infection, or blankets to comfort dogs and cats living in shelters. Comfort for Critters and The Snuggles Project are always accepting blankets, handmade toys, and donations of yarn to make pets in need feel loved as they wait to be adopted.
9. Donate to one of the food justice organizations on Barnraiser. It's like Kickstarter for people who want to support sustainable food organizations in their hood. Projects range from community gardens, to artisanal food production support, to urban foraging. Plus, as with Kickstarter, each project comes with (often delicious) perks.
10. Schedule a date with a grandmother. Sage USA is dedicated to lesbian, gay, bisexual, and transgender senior citizens who need a proxy grandchild to help them with things like traveling to and from doctor's appointments and running errands. Pride month may be over, but the community needs your help all year.
11. Pamper a pachyderm. Ok, so this is a REALLY expensive option — but if you've got the scratch and are planning on a lavish vacation bound to illicit jealousy from your Instagram followers you might as well do something nice while you're there to make them hate you less. Visit the Elephant Nature Park, a rescue and rehabilitation center with locations in Thailand, Cambodia, and Myanmar — and help heal elephants who have been abused. If you can't travel that far, you can still donate to the Save Elephant Foundation.
12. Pay the toll for the person behind you in line on the bridge. Enough said.
Now that you're equipped with a bunch of ideas for how you can get out there and make the world a better place, ASUS wants you to share how you're changing the world one good deed at a time for a chance to win ASUS gear and 15 Transformer Books for a charity. And remember: people are social creatures, and happiness is contagious.
Kristina Loring is an independent radio producer, writer, and digital strategist living in San Francisco. She loves exploring the hidden design in cities and riding a bicycle away from tech epicenters toward the sea.
This post is a sponsored collaboration between Asus Transformer Book and Studio@Gawker.