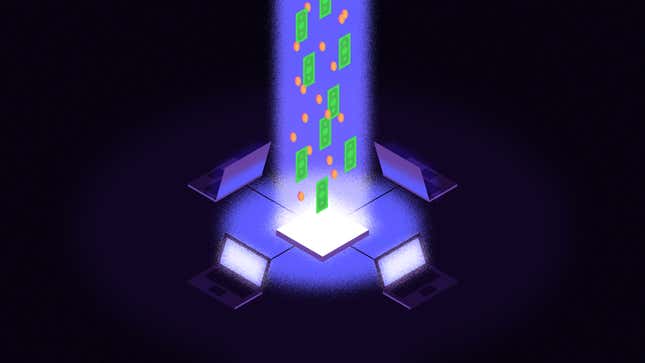 When the pandemic first swept across the United States, small business owners everywhere bore the brunt of financial burden. But Intuit — the global technology platform behind TurboTax, QuickBooks, and Mint — leapt into action to offer assistance at breakneck speed. How did they do it? To find out, we spoke with engineers on the Intuit team who worked to implement AI-driven technology with the goal of making life easier for small businesses and the self-employed during this difficult time.

"It started when we got distress signals from the global community," says Intuit Engineer Clarence Huang. "One of our core values here is customer obsession, so everything we do starts with people. When the pandemic first hit, none of us knew that it was going to be this once-in-a-century type deal." But as the Intuit team continued to monitor the pandemic, it was clear that this was going to be big, and it was going to truly be a global challenge. The financial toll, and the pressure and havoc it caused in the lives of millions of hardworking Americans, inspired the engineers at Intuit to jump straight into action. "At that point we knew we had to do something," says Huang.
When the government announced they were going to offer financial relief in the form of the CARES Act, the Intuit team knew they were in a unique position to help. People were going to need assistance navigating a complex and daunting flurry of information, and Intuit knew they could apply the same knowledge engineering technology that powers TurboTax and convert the complexity of the CARES Act into an easy to understand user experience. Huang says the CARES Act "was something on the order of 800 pages, and we were like 'we can take this stuff that's really, really difficult to read and get much of it into a form that people can actually understand, and put it into a product that they can use to help them.' That's really how it started."
To do so, they utilized the Intuit Knowledge Engine — which was previously only used to simplify the tax code in TurboTax — to convert the CARES Act and present it in an accessible format to small businesses and the self-employed. Based on personalized responses, IAA helps small business and individuals easily determine whether they may be eligible for federal relief.
But what is the Knowledge Engine? "Knowledge Engineering is really a subfield of AI," explains Huang. "It's really about representing knowledge that a human would have in a systematic form and using it to make decisions." Essentially, Knowledge Engineering is a form of AI that specializes in codifying a set of "rule of thumb" decisions without bias.
After confirming they could implement this tech into a field outside of the world of taxes, they went about building Intuit Aid Assist. This free application uses interactive tools powered by the Knowledge Engine to help U.S. small business owners and the self-employed determine whether they're potentially eligible for financial relief under the CARES Act.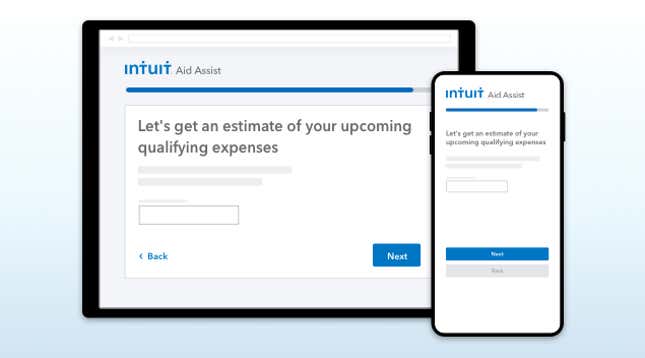 But how did they build this product so quickly? "I think the original estimates for this project were like 6+ months of effort," says Justin Chiang, a Senior Software Engineer at Intuit. But everyday people were losing their jobs, businesses, and livelihoods with every passing second, so they knew they needed to move fast. In the end, Intuit executed what should have been a six-month-long project in just three weeks time.

"Once we showed our proof of concept," explains Chiang, "we had support across the entire company. We had volunteers from every domain you could think of. The compliance experts — they're the tax analysts who are actually reading all of these laws — we had our government affairs team who were working with these government agencies to keep up to date with the rules. We had engineers, designers, legal teams, everyone's contributing their time and experience, and we also had significant executive support. A lot of key leaders throughout the company really threw in their support for it." And with what seems like nearly the entire company pitching in, Intuit Aid Assist was fast-tracked through development.

But getting a massive project like Intuit Aid Assist off the ground was no simple task. "Knowledge Engine was designed to codify all these compliance rules," says Chiang, "but it wasn't really designed to generate the user interface, the screens that the customers interact with."
Intuit Aid Assist, through its suite of questions and calculators, has over 150 different screens. "And given the time constraints it didn't make sense to have a whole bunch of engineers hand-code them because the government was essentially changing some of these rules and regulations on a daily basis, which would mean the flow of how you move from one screen to another would be constantly changing as well, along with the text or stylization on each screen. All these changes from a human point of view are not scalable," says Chiang, "so we came up with this thing called Guided Flow (and we actually filed a patent on this technology)," which led to every screen being auto-generated by Intuit's AI under the hood.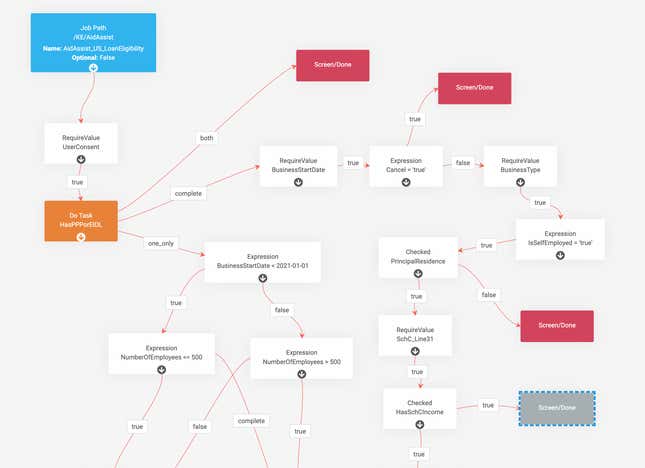 "We also had to adapt it to be extremely fast," says Chiang. "With TurboTax it's kind of like you have a year to update the product. But this process was like compressing that down by an order of magnitude. So how do we make sure our tools are fast enough that we can keep up? When there's hardship among our customers and in the external environment, that definitely breeds innovation."

Intuit Aid Assist takes all those complicated pages of the CARES Act and converts it into a straightforward, easy-to-grasp interview that provides answers to the most pressing questions on the minds of small business owners. From helping someone determine what they're potentially eligible for, to understanding how much of a loan they might be able to receive (and how much of said loan might be forgivable), it alleviates the burden of deciphering complex documentation. That's one less headache for people already going through financial and career hardships.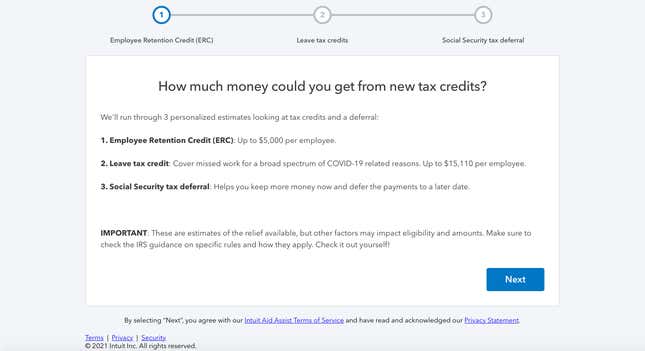 So what's the potential of the Knowledge Engine? Chiang imagines a future where it could be used for a variety of compliance tasks, "like immigration, scholarship applications, DMV forms, any application form, all of that could be codified into Knowledge Engine and you could potentially pre-fill, pre-populate and really make it a lot easier for the end user." But the big key to the Knowledge Engine is its transparency. You're not just plugging information into a void. Knowledge Engine can help explain it all back to you, "so you can see that your business is potentially eligible for say, a $25,000 loan and $12,683.23 might be forgivable," says Chiang, "and I think this, as a concept, is very powerful."

Huang says one of the cornerstones of Intuit's approach is "striving to make products that are devoid of bias and accountable to our customers. It's not something you're necessarily seeing across the whole industry but we want our products to be accountable. The goal is that you can go in and see exactly how a decision was made or recommended and why we presented it to you, and we believe that's important." For Huang, and Intuit at large, "it all goes back to integrity without compromise." And for these customer-obsessed engineers, there's the satisfaction of knowing they've helped people navigate financial relief during one of the most challenging moments in our country's history.
Click here to learn more about how you can join this team of engineers working at the forefront of Knowledge Engineering at Intuit, where innovation, integrity, and teamwork are vital.

Giaco Furino is Senior Writer for G/O Media Studios.

The article is a sponsored collaboration between Intuit and G/O Media Studios.