When you hear the words "dorm room," design, creativity, and comfort might not be the first things that come to mind. But instead of seeing a bare, white, sad space that kind of sucks, we can look at a college dorm room in a positive light. A blank canvas, if you will. That's why we challenged two guys to decorate each side of a dorm room using only merch from their favorite NCAA football team, courtesy of Walmart Fan Shop.

And since it's college, and football, and a challenge, we obviously had to create a points-based grading system. The two opponents will have the opportunity to win 20 trophies total across four categories: creativity, functionality, use of space/products, and design, with the potential for five trophies per category. Yeah, trophies. Because...trophy culture.
The Competitors
We looked far and wide for two passionate college guys with die-hard allegiances...

Here's The Play-By-Play
They look around the empty dorm room, taking it all in. Keimon knows he's going to win this challenge. Coincidentally, Jarrett also knows he's going to win. Go Gators. Roll Tide. May the best side win.
After sorting through dozens of possible products and strategizing where to even begin, both Keimon and Jarrett decide to tackle the largest piece of furniture on each of their respective sides of the room: the bed.
Keimon has to get creative out of the gate, as he doesn't have a comforter in his pile. He sets up his Body Pillow and Woven Blanket to convert his sleeping area into a daybed, making it a 24/7 hang out space.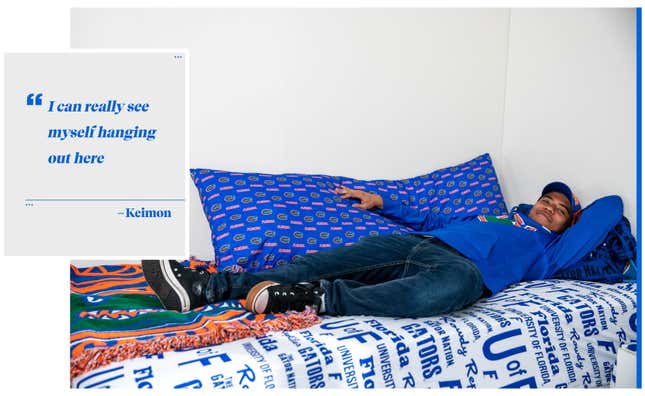 Jarrett goes the traditional route for his bed, but gets imaginative with wall space, hanging a Sherpa Blanket over the corner to add a den-like cozy feel.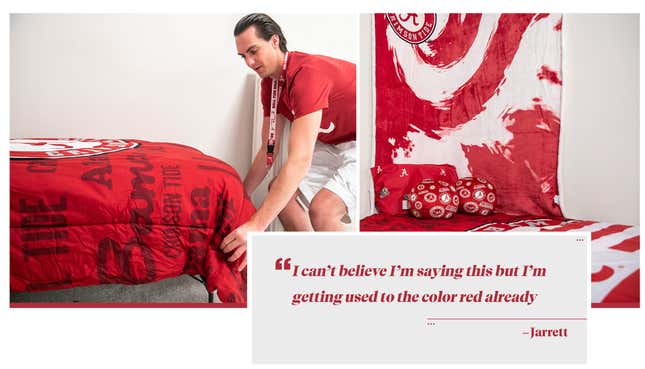 Up go the Gators and Crimson Tide curtains, marking a very clear division of the room and their alliances.

Right now, Jarrett and Keimon are neck in neck when it comes to the Use of Space category. Jarrett uses his Alabama Bottle Suit as a pencil holder, while Keimon stores his plates on his Florida Gators Phone and Tablet Stand.

"I promise that I will find a use for this before day's end," Jarrett exclaims, holding up his Round Crimson Tide Table. "I don't know where, I don't know how, but I will."
"The first things to catch my eye were those man cave banners," Keimon says, proudly looking on at the banners hanging over his bed. "I love how they accent the room. Did I just say accent? Who even am I?"
More innovation flows out of Jarrett, as he uses his Gameday Plate as a place to drop his keys and change. And by the looks of Jarrett's pristine dresser, his fears about being neat and tidy can be alleviated.
Keimon will leave no stone unturned when it comes to showcasing the Gators. Even the plant and trash can are decked out in orange and blue.

And while Keimon utilizes his Florida Gators Tavern Sign for its intended purpose (to brag about his team to all who enter), Jarrett hangs his Alabama Tavern Sign flat against the wall and uses the hook to hang his towels.
Their rivalry heats up as they meet closer to the 50-yard-line of the dorm room. They still have some very large pieces of furniture to figure out: the tables and chairs.
Keimon opts to position his Folding Travel Table diagonally, using it as a community table to play games, chill, eat and even welcome people to the room (but Gators fans only).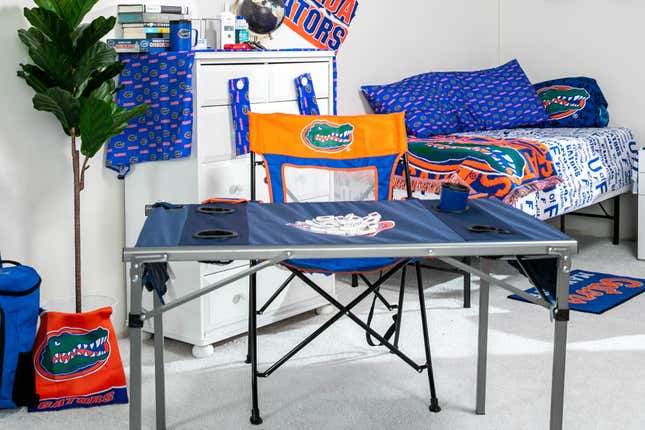 Jarrett has gone the more subtle route, setting up a tidy reading nook using his Round Table and Tailgate Chair.
"I knew I'd find a place for this!" Jarrett exclaims, pointing excitedly at the round table.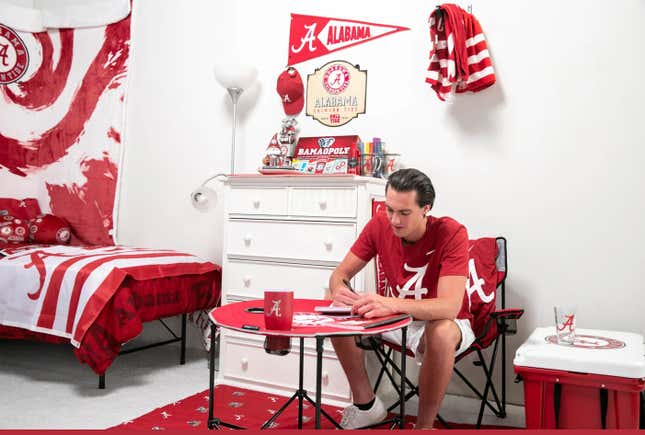 Before the final buzzer, they offer their closing thoughts on what they've accomplished.

"My favorite part of the room is definitely the tavern sign. It's so welcoming and cool. But it's all great," Keimon states proudly, as he looks around at the fruits of his labor. "It's definitely a room I'd be happy to spend a semester in. I didn't know I had this in me. I feel like I can decorate anything now, and with confidence. And now I know for sure - blue is definitely my color. We couldn't have picked better teams. The blue and red look great next to each other."
"I really didn't know if I could accomplish everything I needed to in this short amount of time" Jarrett confesses. "And I'm psyched I figured out what to do with that tailgating table. I would have to say my favorite thing is just that I kept things really clean and tidy. That was my biggest concern. And I'll totally wear red now. I know my grandparents will be so proud of this. Roll Tide."

Final Scores
This is done...they accomplished it….let's go to the score breakdowns. Five trophies are up for grabs in each category!
Creativity: Were the products used in a unique way?
Keimon got creative with cutting out The Florida Gators out of the flag, and adorning everything in Florida Gators gear, down to the trash can and plant.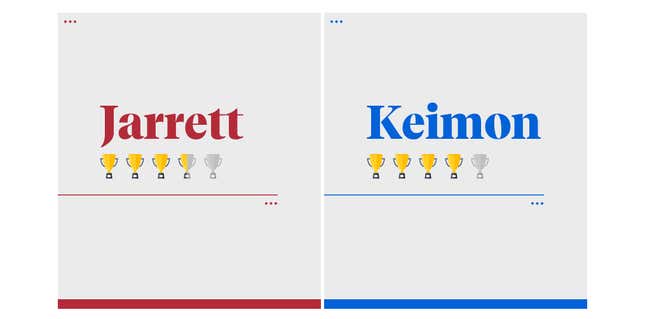 Use of Space and Products: How did they use the space? Did they use every single product available to them? Did they get creative and use the products for something other than their intended purpose?

Both Jarrett and Keimon used their spaces quite well, making them very cohesive and welcoming.
Keimon used five items unconventionally:
Jarrett used six items unconventionally: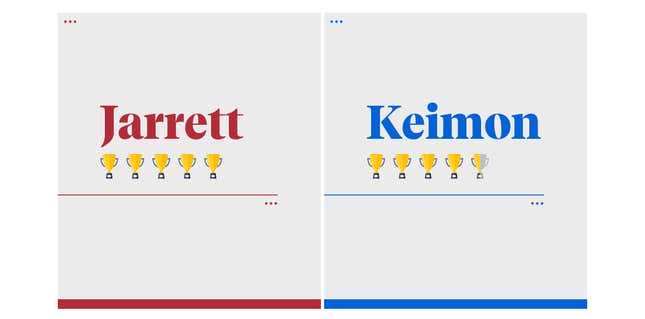 Functionality: How realistic will it be to maintain their living spaces on a day-to-day basis?
Both sides of the room are highly functional. Jarret's reading nook really fills in his side of the room quite well.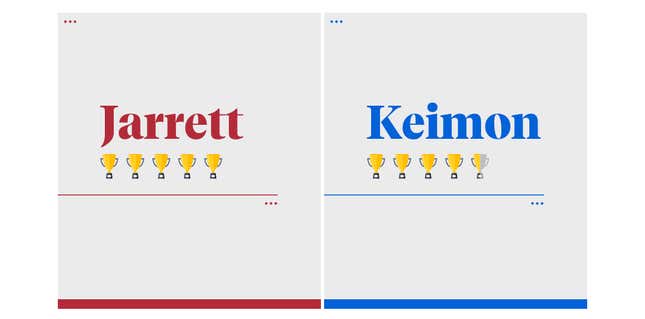 Design: Which side of the room has a more pleasing aesthetic?
Everything on Keimon's side of the room looks crisp, except for the material hanging off the dresser knobs and the flag cutouts on the wall.
The blanket is a knock to Jarrett's overall score. It was a good idea, but it didn't quite work in execution. The wall space is sharper on Keimon's side, with the tavern sign really gelling everything together. And while Jarrett didn't use his walls as well as Keimon did, he certainly excelled in the dresser department.

And The Winner Is…
Jarrett makes his grandparents proud and wins the dorm room challenge by half-a-trophy. Congrats, Jarrett!

Let's Hear From Our Winner!
Visit Walmart Fan Shop for more inspiration on how to decorate your dorm room this semester.

All leftover products from this challenge were donated to The Boys & Girls Club of Chicago.
Vicky Kuperman is Associate Creative Director at Studio@Gizmodo

Photos by Justin Cross // Studio@Gizmodo
This post is a sponsored collaboration between Walmart Fan Shop and Studio@Gizmodo.