What's Next In Tech) : title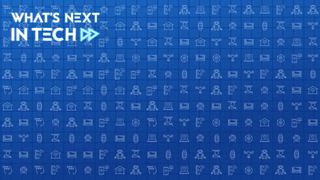 What's Next In Tech
From robotics to health care to TVs and more, Best Buy and Studio@Gizmodo are exploring the future of technology.
Welcome to the launch of What's Next In Tech — a video and written series by Studio@Gizmodo and Best Buy, exploring the future of technology across a vast array of topics like AI, robotics, and 5G. To get things started, we set our sights on the future of wearable technology.

When we think of wearable tech today, we think of smart watches, augmented- and virtual-reality glasses, and health trackers. But we've only really just scratched the surface of this incredible technology. Want to see where we're headed? Check out the video above, where we visit the University of Minnesota Wearable Technology Lab. Our ever-curious host Jacoby toured the facility and got a sneak peek at everything from room-mapping gloves to incredible textile advancements.
To learn more about tomorrow's technology — and how it may one day turn up in products available at Best Buy — check out our What's Next In Tech special section, where we'll be exploring all things future-forward in the coming weeks.
This post is a sponsored collaboration between Best Buy and Studio@Gizmodo