The thought of getting operated on by a robot or having medication delivered to your door may have sounded like an out-of-this-world notion 20 years ago. Now, both have become very common practices in the medical field, and they rest on the tip of the iceberg when it comes to the present and future of remote health care.
Thanks to the emergence of online pharmacies, you can put the agitation of waiting in line at the local brick-and-mortar pharmacy in your rear-view. Not only do these online services offer same-day delivery and convenient drop-off times, but they could save you money.
Toby N., 32, started using one of these services upon her psychiatrist's recommendation. She knew it would be convenient, but she didn't know it would put money back in her pocket. "The generic doesn't work for me so I have to use the brand name. I was paying $50 per month for it," Toby explains. Unsolicited, her online pharmacy found her a significant coupon for her brand-name drug. She now pays only $5 — an annual savings of $540.
Change is not easy for everyone, and the thought of ordering her medication through an app was scary at first for Toby. "I'm not always super responsible about my meds and I'll forget that I haven't refilled," she confesses. She worried that she would no longer have the flexibility to run over to the 24-hour pharmacy if she couldn't find her medication. "That's the only thing I was concerned about."
Ten months into using an online pharmacy, that fear has dissipated. She even feels more taken care of than she did before. "They're very nice and extremely responsive. When you're dealing with psychiatric stuff, it's nice to have people be kind to you. And it's so easy. You can set the two-hour window and track it on the app. They give you a heads up when they're close."
Toby even sees her psychiatrist remotely now, via a video chat app, saving herself an agitating and anxiety-fueled trip into the city. Thanks to switching over to an online pharmacy, a whole new world of remote health care has opened up for her, adding some very welcome calm and ease into her life.
Remote health care goes far beyond medical appointments and pharma delivery. Thanks to the emergence of surgical robotic technology, surgeons are able to operate on patients with more precision — and less complications — than ever before.

Jennifer Z. was 41 and a mother of five children when she got diagnosed with massive uterine and ovarian fibroids. Her symptoms included pelvic pain, overall discomfort, and heavy bleeding, and pain during her menstrual cycle. With no plans of having more kids, she opted to have a full hysterectomy using a robotic surgical system. Her surgeon operated on her remotely, making five incisions with robotic surgical instruments, and controlling them from a console during surgery.
Today, she has no scarring whatsoever from what was her first robotic procedure. "I'd had a gallbladder removal back in 1995, " she explains. "I still have scars from that surgery, which was almost 25 years ago. My new surgeon had to work around those scars. If you asked me if I had to have another surgery with the robot, I would do it. I had five incisions with the hysterectomy, but you can't see any of them. It's night and day."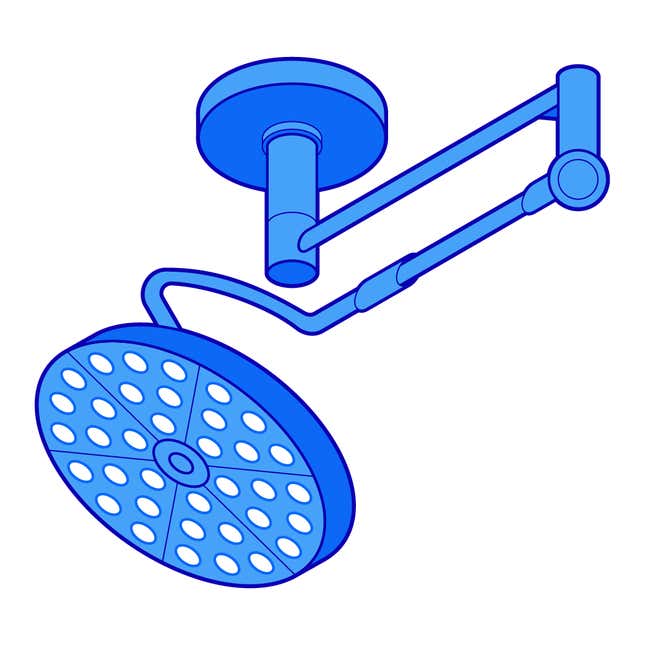 John S., 65, has also joined the growing list of people who opt for robotic surgery. He underwent a hair transplant in the late 1970s, but the procedure was so barbaric and painful that he put off completing the second half of the treatment for close to 40 years. That was until he met a doctor who introduced him to a robotic hair restoration procedure.
The procedure is done in two parts: automated hair removal and manual implantation. First, the doctor finds the area of the head where hair grows in abundance, and where the patient can afford to have multiple hair grafts removed. This is done with the utmost care, because if the machine goes in at the wrong angle it could cut the root. Since precision is key here, the doctor extracts the first one or two hairs manually to identify the angle of the hair growth, then they program the machine to take over for them.
Unlike with Jennifer's hysterectomy, the doctor was not even controlling the device during the procedure. "This is an automated machine and he actually watched the procedure on his TV in his office while it was being done," John recalls. "You're totally awake. You're sitting in a chair. Your face goes in a hole. The machine just rotates around you. You just hear 'click click.' Then it looks around and goes to another area and takes another hair."
Once removal was complete, the doctor took over for the machine and manually re-implanted the hairs. Within three months, they started to grow through the skin. Similar to Jennifer, John had major scarring from his first procedure that his new doctor had to work around. "There was virtually no scarring this time, whatsoever," he says. "That was a huge improvement. Before, I would have to be careful about getting my haircut too short because of my scars. This is not an issue at all now."
Jennifer didn't take the decision to undergo a robotic hysterectomy lightly. "I grew up hearing about so many women who had had hysterectomies the old fashioned way," she remembers. "They were off of their feet for six to eight weeks. I was very emotionally scared about being bed-ridden for two months, with five kids."
After the three-hour surgery, she woke up from the anesthesia pain-free and was sent home with over the counter pain medication, which she used sparingly. She had minor discomfort from the incision points, but nothing close to what she had feared. After following the doctor's orders and taking it easy, she felt like herself again in two weeks time.
John S. had emotional scars on top of physical ones from his painful hair transplant four decades ago. "It was barbaric, bloody and so painful," he says. "I wouldn't have done it again without this new technology. Once I was done and the hair started growing in, I became friends with the doctor, and sometimes he calls on me to share my experience with prospective patients who are also reluctant. I'm happy to do it."
For Toby, the simple switch to an online pharmacy and web-based doctor appointments is making a difference as she takes steps to recover from depression.
Remote health care options like these are changing modern medicine. So, what's next? Imagine a life-saving surgery being performed by a doctor who's halfway across the world from the patient and operating table, or getting a diagnosis within minutes from the comfort of your own home. We're already making strides in the latter, as we learned from our visit to TytoCare, the company behind home diagnostic kits already available for sale at Best Buy. The potential impact of remote health care on future generations is almost impossible to quantify, and the future seems limitless.
For more on what that future might look like, keep following our What's Next In Tech campaign with Best Buy.
Vicky Kuperman is Associate Creative Director at Studio@Gizmodo.
This post is a sponsored collaboration between Best Buy and Studio@Gizmodo