In just a few short weeks, the moon will complete its 12th cycle of the year, finally ending the Year of the Rat (and truly, what a Year of the Rat it was) and ushering in the more auspicious Year of the Ox. Food will be noisily devoured, red envelopes will be doled out, and 2020 will soon be a blip in the annals of history.

I'll be ringing in the new year without family and friends this winter, but I'm determined to keep our customs alive. Luckily, there are more tools than ever to help me carry out our rituals remotely and digitally. Here's how I'm celebrating Lunar New Year from home.
Feast Of The Year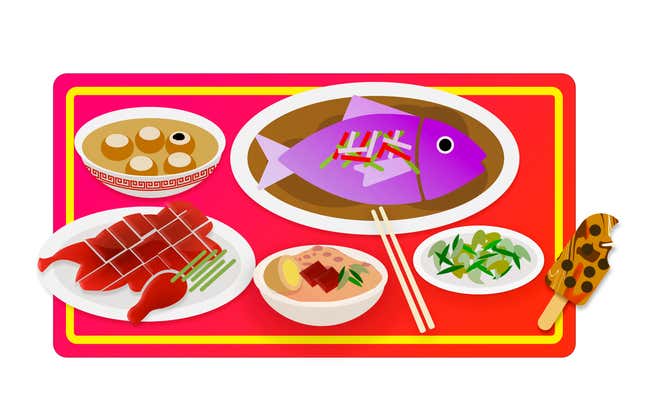 Lunar New Year dishes vary widely by country, region, and family tradition, but the basic principles are universal: Eat until your body simply refuses to accept any more food. Often, preparation and cooking begins a full month ahead of time, culminating in a massive New Year's Eve feast.
In Chinese culture, preparing a whole fish is customary, regardless of region, thanks to a play on words: The Chinese word for fish is tonally identical to a word for surplus. Part of the fish is consumed on New Year's Eve, and the leftovers are saved for the following day, symbolizing the bringing surplus into the new year. I'll be making a steamed whole pomfret — a fish small enough to consume without help from guests — heaped with ginger and scallions, to be eaten alongside an eclectic assortment of favorite dishes, from roasted duck to rice cakes — a Lunar New Year staple — sauteed Shanghainese style with shepherd's purse.
For dessert, I'll be making my mother's mochi cake recipe, with glutinous rice flour stockpiled from a Chinatown bike ride several months ago. My favorite boba brown sugar popsicles will be on reserve for emergency midnight munchies, and a package of pre-made, black-sesame-stuffed tangyuan — soft mochi balls eaten in a sweet soup — will make for a traditional New Year's Day breakfast. I've fallen for nearly every Asian grocery delivery app ad I've been served, and I'll be ordering the ingredients I don't already have through a local delivery app.
An Apartment Verdant With Auspicious Houseplants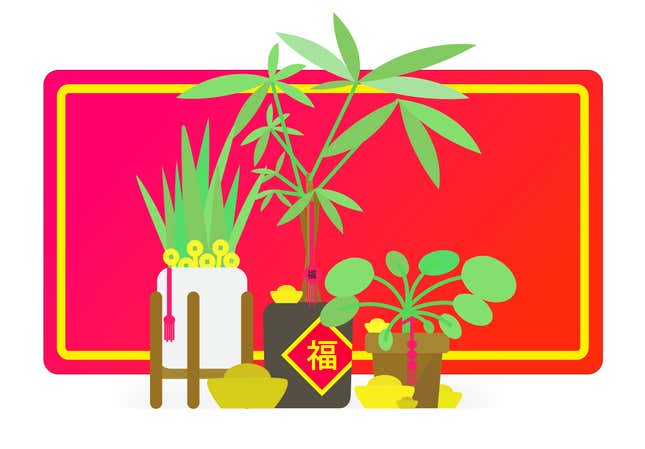 The new year is an ostentatious holiday, replete with red and gold lanterns, intricate paper cuttings, and fireworks. I'll be real, though: My family has never actually bothered to deck out our home. This year, I'm planning to decorate simply and symbolically, picking up plants believed to have feng shui benefits.
Money trees and snake plants, both of which are available at most corner stores in my neighborhood, will signify good fortune while purifying the air in my dusty first-floor Queens apartment. (They also satisfy an ulterior motive: replacing some of the fussier plants I killed in 2020.) Jade plants are another popular and auspicious flora choice, but have been banned from my home due to my inability to keep succulents alive. I plan to decorate the money trees with a few small charms from my late grandmother.
Sharing The Levity And Good Fortune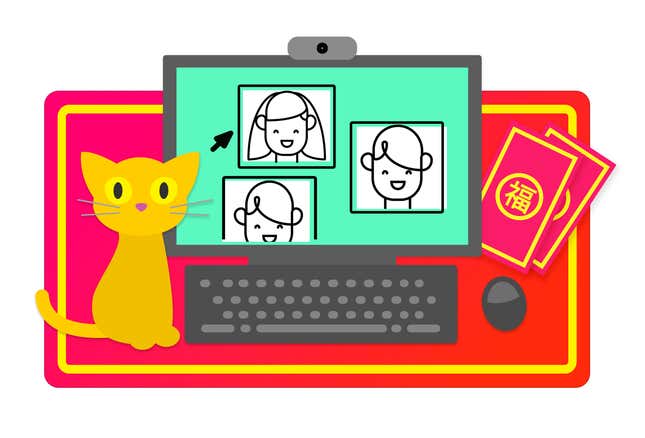 With in-person festivities ruled out, my family and I will be catching up virtually via video call, at which point I'll most likely spam them with questions about proper cooking technique for my New Year's Eve menu and show off my cat. They'll share all the details of their own dinner plans with me, and remind me to text new year greetings to each of our relatives. New Year's Day happens to fall during a biweekly video call with a group of close friends, which brings more much-appreciated cheer to the holiday.
Red envelopes, stuffed with cash, are traditionally given by parents to children for the new year to symbolize a happy beginning. They're also given at birthday parties and events, often by younger people to elderly relatives — those with an income sharing wealth with those who've retired. I'll be combining both traditions this winter. My family is sending red envelopes digitally this year, using tools like Zelle®️ in the U.S. Bank mobile app, which has a red envelope e-card feature built in.
Because I've been fortunate enough to maintain employment through the pandemic, I'll be making contributions to several conservation nonprofits and mutual aid groups to mimic giving red envelopes. Despite the virtual rituals, the heart of the holiday — sharing joy and surplus with others — can be kept very much alive.
---
Click here to learn more about how U.S. Bank can help you and your loved ones continue your Lunar New Year traditions and continue to build upon a strong financial future, and check out U.S. Bank's Year of the Ox digital calendar, which includes financial tips and resources to help you plan ahead in 2021.
The article is a sponsored collaboration between U.S. Bank and G/O Media Studios.
Angela Wang is a freelance writer living in Queens.